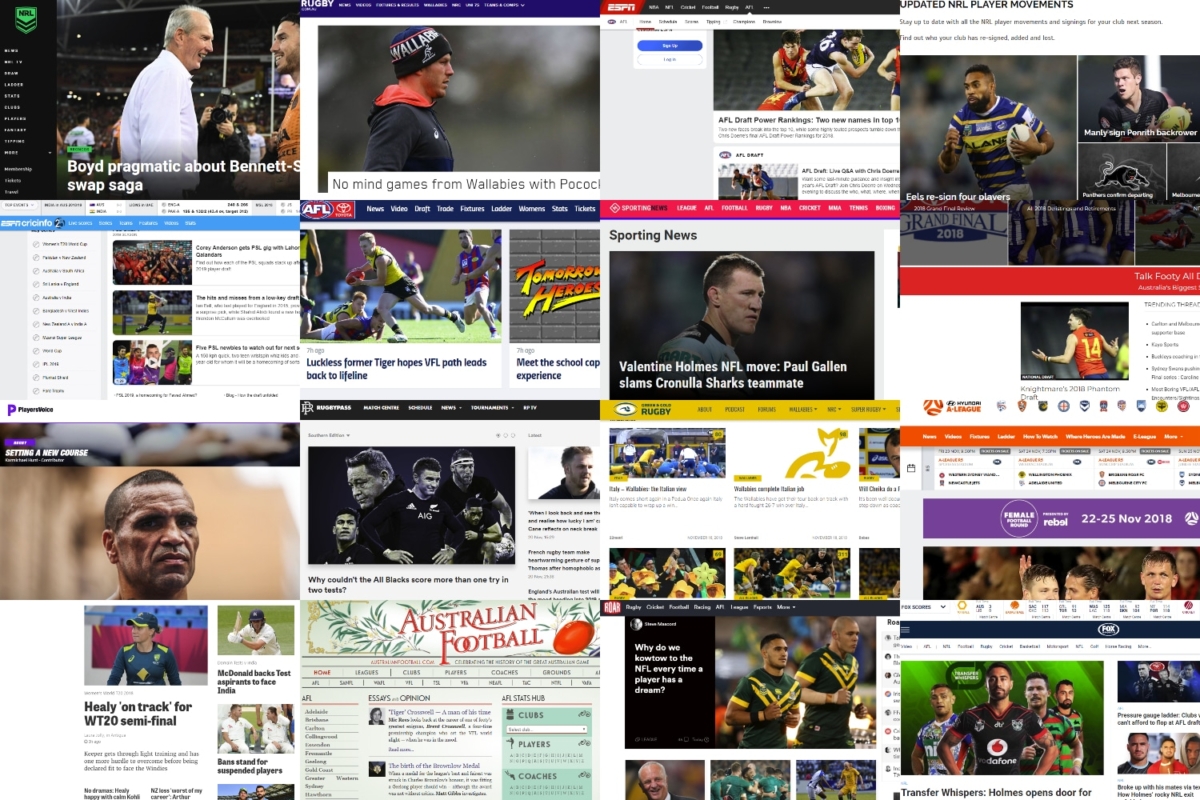 From the best match coverage to the go-to stats havens, these are the essential general sports and code-specific Australian sports blogs and websites. The volume of high-quality Australian websites is strangely low for a sports-mad nation, but Man of Many's guide to the best online outlets and resources saves you from having to wade through the drivel. Sport is a religion for many, and in this modern world we need a generous selection of online bibles.
1. Fox Sports
The online auxiliary of the pay TV giant, Fox Sports remains the go-to for fans of all major codes. The focus is Australian sports – providing up-to-the-minute breaking news, incisive opinion, features and the best match coverage for NRL, AFL, rugby union, cricket and football going around – but they also provide solid analysis of the major overseas competitions. A little clickbait-y at times but generally avoid the relentless muck-raking that sullies newspaper sports coverage. The No.1 purveyor of sports news Australia has by the length of a Tom Hawkins kick, while their stats coverage of the major codes is the best around.
2. ESPN Australia
The American sports behemoth's Australian site is essentially the same as its parent site, but with rugby union, AFL, NRL and NBL tacked on (the cricket tab redirects to ESPN Cricinfo). They run a high proportion of AAP articles and generic news available on other Australian sports websites, but their original content is high-quality. Jude Bolton (AFL) and Brett KImmorley (NRL) add another element as expert columnists.
3. Sporting News Australia
A spinoff of the US version, Sporting News brings you pretty much all the big stories you need to know, along with a solid smattering of opinion and gossip for the major Australian sports codes. Some newspaper scribes moonlight on the site, while the NRL Lurker has juicy tidbits for league types.
4. The Roar
The Roar combines expert content with articles by amateurs, providing an outstanding platform for aspiring writers to get their stuff out there to a wide audience via 'The Roar of the Crowd' section. The likes of Steve Mascord (league), Ryan Buckland (AFL), Spiros Zavos (union), Ronan O'Connell (cricket) give the site a certain credibility but The Roar's lifeblood is the wide-ranging pieces by fans and budding scribes – many of whom go on to become fulltime journos. Opinion is the name of the game and the comments threads are the most well-populated and spirited you're likely to find on sports blog websites Australia wide.
5. AthletesVoice (formerly PlayersVoice)
A relatively recent, but rapturously received, addition to the gamut of Australian Sports websites. PlayersVoice offers real, raw first-person accounts from athletes and coaches across the sporting spectrum, which boast candidness journalists could only ever dream of coaxing out of their subjects. Superstars such as Cameron Smith, Jeff Horn, Nick Kyrgios and Cyril Rioli as well as guns from codes that get less airtime open right up on PlayersVoice – get ready to feel.
6. AFL.com
Of the official sports websites Australia has to offer, the AFL's has long been regarded as the standard-bearer. Peerless match coverage, great stats section and not afraid to pull any punches as far as opinion pieces go. Can be finicky to navigate around for the uninitiated but content-wise the AFL has got it pretty much nailed. AFL is one of the most popular Australian sports blogs on the internet.
7. NRL.com
The NRL's official website underwent a major overhaul last summer, clearing the decks of some of their long-serving journalists and bringing a host of well-known newspaper veterans – such as Brad Walter and Michael Chammas – and giving it a fresh new look. The personnel change has resulted in a high proportion breaking stories and genuine journalism as opposed to the more vanilla coverage of the past, with the experienced newshounds giving it the feel of an independent outlet. The stats section – in-match as well as overall season numbers – is a debacle, however.
8. Rugby.com.au
General news and some good features make Rugby.com.au – the media brand arm of the ARU – a staple for union tragics. A great team of writers, who you can't help but feel sorry for given the dismal state of Australian rugby at present. Not much in the way of stats or history. Rugby.com.au is one of the most detailed Australian sports blogs on the internet.
9. Cricket.com.au
Wide-ranging coverage of Australian cricket from a band of excellent writers, though the fact it is a division of Cricket Australia means you can't expect anything too controversial or incisive. Their index of all domestic and overseas players is a great resource.
10. A-League.com.au
The official site of Australia's premier football league provides adequate news coverage, but their previews, stats and video content are all very good. A-League.com.au has some of the most loyal readers of all the Australian sports blogs on the internet.
11. ESPN Cricinfo
If you work all day at a computer and you haven't clocked up hundreds of paid hours following Cricinfo's ball-by-ball coverage of a Test or one-dayer, are you even a cricket fan? Spectacular match coverage, phenomenal stats and analysis, and great features. Their stats/history sections are also mind-blowing. The only aspect that could improve the site would be match video and highlights, but there's plenty of interviews to watch.
12. Green and Gold Rugby
Head to Green and Gold Rugby for more irreverent coverage of the 15-a-side game – a site by fans, for the fans. A daily news wrap-up, previews and reviews, podcasts and opinion pieces make for the most comprehensive Australian RU site on the web, featuring the Wallabies, Super Rugby, NRC, Sevens, club and schoolboy footy. Green and Gold Rugby is one of the most well-respected Australian sports blogs on the internet.
13. Zero Tackle / Zero Hanger et al
Zero Tackle has been the biggest and best independent rugby league news and opinion site for some time, and their sister AFL (Zero Hanger), rugby union (Zero Scrum), football (Zero Striker) and cricket (Zero Wicket) sites aren't far behind in those sports. The Zero US Sports site is also worth checking out, while they have more sporadic coverage of tennis and motorsports on separate sites. The best feature as far as Zero Tackle and Zero Hanger go, however, is their dedication to keeping everyone up to date with all player movements and every club's contracted players.
14. Big Footy
Billed as 'the web's largest Aussie Rules community', Big Footy is built around its massive forum but also has some entertaining articles and passionate AFL coverage. Also links to other sports, but AFL is their bread and butter. Big Footy is one of the most entertaining Australian sports blogs on the internet.
15. Rugby League Project
An invaluable resource for journalists, historians and general rugby league nerdlingers alike, Rugby League Project has details of virtually every match ever played and every player to pull on a boot. The individual player pages also have profiles reproduced from the seminal The Encyclopedia of Rugby League Players. An ornament to the game, RLP is the baby of Andrew Ferguson, who arguably rates after only the great David Middleton in the realm of rugby league history buffs/stats geeks.
16. AustralianFootball.com
The Aussie Rules equivalent of RLP, AustralianFootball.com is an extraordinary resource – you could get lost for months on here if you're history-inclined. A phenomenal statistical encyclopedia for not only the AFL, but also the state-based leagues, while the site also has many fabulous essays and research-based articles. Bravo, founder and editor-at-large Adam Cardosi, you have created something truly special. AustraianFootball.com is one of the most comprehensive Australian sports blogs on the internet.
17. Rugby Pass
Fed up with the quagmire that is Australian rugby union? Dilute it with rah-rah coverage from around the world with Rugby Pass. Starting life as an overseas streaming platform for rugby competitions, Rugby Pass's website is top-shelf, with a team of writers based in all corners of the globe and contributions from respected pundits and players. Rugby Pass is one of the most highly regarded Australian sports blogs on the internet.
18. Making The Nut
Though several regular features on MTN have dropped off in recent years, acid-keyboarded rugby league raconteur Nick Tedeschi's 'From The Couch' column and the Willie M Medal for the season's worst player in the NRL deservedly retain a large and loyal following. 'From The Couch', in particular, is essential weekly reading. MTN is one of the more interesting Australian sport blogs on the internet.
["source=manofmany"]