AIR PURIFIER BUYING GUIDE 2019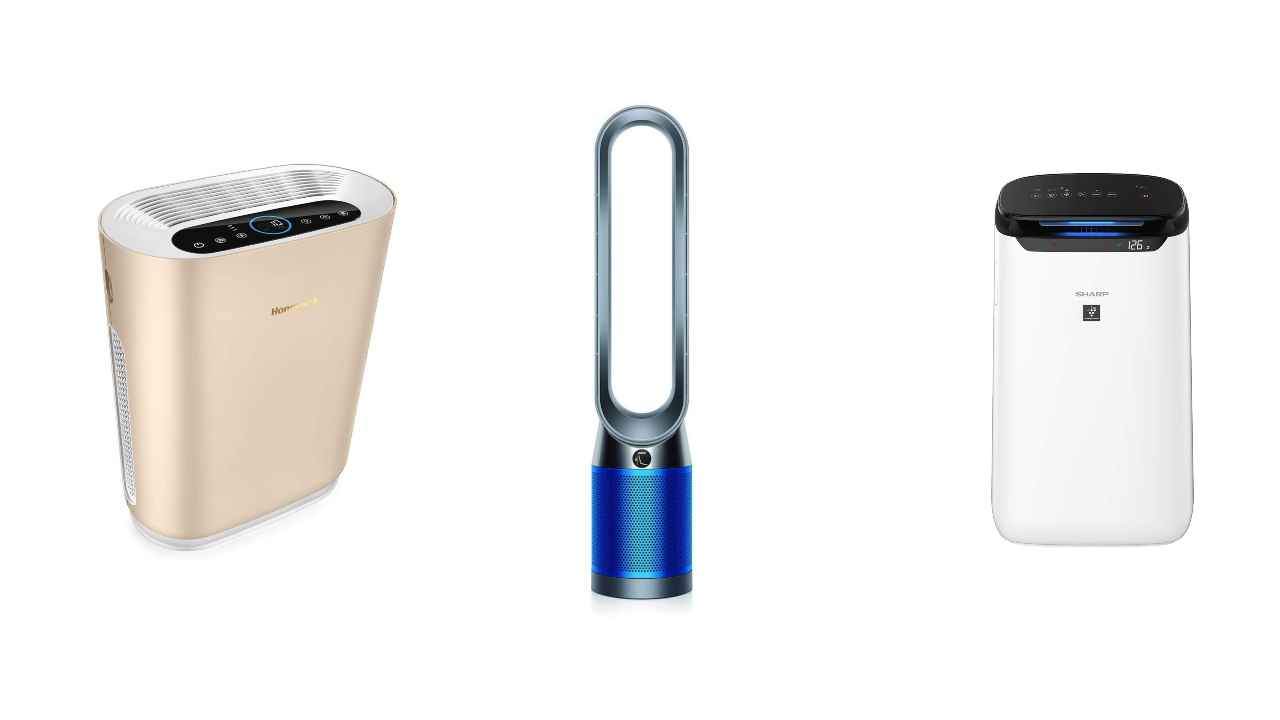 If you reside in any of the major metro cities in North India and don't have an air purifier at home, then you should be getting one right away. The air quality index has been getting worse day by day and a health emergency was declared in the Delhi-NCR region with the air quality index (AQI) in some areas touching the 999 mark, which is downright alarming. In times like these, one can only stay indoors with all the windows and doors shut and run an air purifier at full blast. However, not all air purifiers will work in such extreme conditions. This buying guide is aimed at helping you select the ones that can actually help.
SELECTING AN AIR PURIFIER
Buying an air purifier can be tricky since almost all devices in a particular price range claim to have similar capabilities. Moreover, there are various parameters to keep in mind like filter grades, filter size, types of filters and more. Additionally, there are numerous technologies like ionisation, electronic precipitation, among others. No wonder it can be difficult to zero-in on a good air purifier that is effective in the harshest of conditions.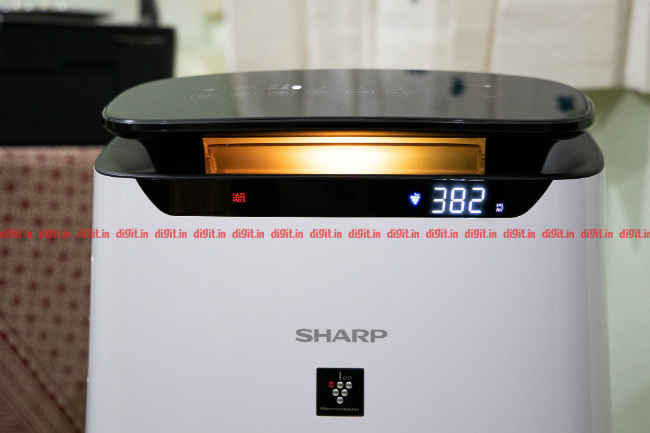 We reviewed the Sharp FP-J60M(₹ 25115 at paytm) to find it is extremely efficient, even when air pollution crossed all set limits 
CADR AND TYPES OF AIR PURIFIERS
You may have heard the term CADR or Clean Air Delivery Rate thrown around in the context of air purifiers. It is a term used to describe the volume of clean air an air purifier can spew out per hour. As you might have guessed, a higher CADR is usually correlated with better air filtration capabilities on an air purifier. However, we recently learned from a trip to the Dyson Research and Developmental centre that CADR is not always the right metric to correctly define the efficiency of an air purifier.
First off, one needs to buy an air purifier that has a physical filter and this is important since there are devices without a physical filter installed. These air purifiers solely rely on methods like electrostatic precipitation, ionisation, UV based cleaning or ozone generation and usually have little to no efficiency when it comes to quickly clear out Particulate Matter (PM) from the air. What's concerning is that some of them can even produce Ozone, which can prove harmful and even cause lung damage. Thus, we recommend going only with an air purifier with a physical filter.
FILTERS: TYPE, GRADE, AND EVERYTHING THAT MATTERS
Air purifier manufacturers sometimes use confusing terminology to describe the filters used n their air purifiers. One needs to ensure that a device is equipped with a HEPA or High-Efficiency Particulate Air/Arresting filter. This filter comes in different grades and home air purifiers generally have grades ranging between H-11 to H-14. The H-13 grade of filters is the most commonly found HEPA filters in home air purifiers and work well for moderately polluted areas where AQI ranges between a moderate to poor range. For anything worse, we recommend going for air purifiers equipped with an H-14 filter grade since it has a higher particulate matter retention rate.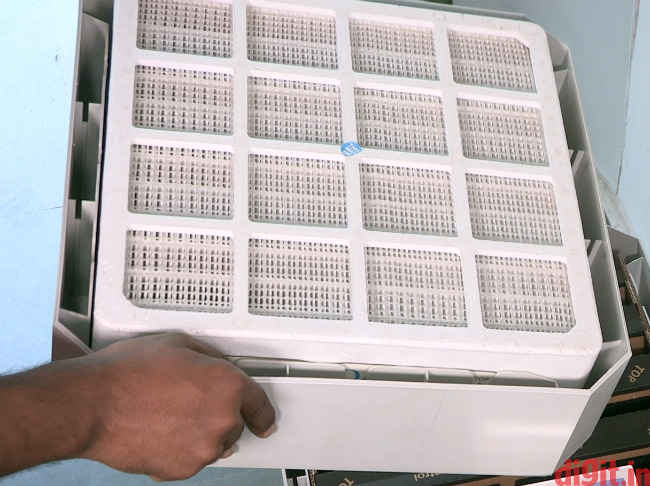 IQAir HealthPro 250 (review) has a large-sized HyperHepa filter that is of H-13 grade
Along with a HEPA filter, most air purifiers feature additional filters that are aimed at enhancing its efficiency and removing harmful gases. There is usually a pre-filter, which will trap bigger particles like aggregated PM10, dust, hair and pet dander, and is washable. Behind a pre-filter is usually an activated carbon filter, which consists of activated charcoal and sometimes a catalysing agent. This filter adsorbs harmful Total Volatile Organic Compounds or TVOCs from the air like Benzene, Sulphur Oxides (SOX) and Nitrogen Oxides (NOX), Carbon Monoxide, among others. Choosing an air purifier with a good amount of activated carbon, which is weighed in grams, is always preferred.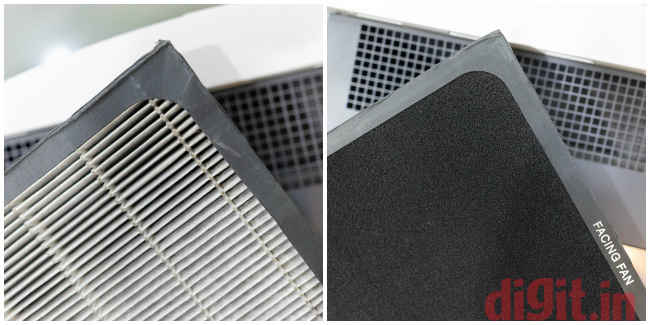 Blueair Classic 280i air purifier (review) has one filter that amalgamates a HEPA and an activated carbon filter filter
As an example of selecting an air purifier based on filter grade level, consider that you reside in Delhi NCR region. We recommend buying a Sharp air purifier with high CADR and effective coverage area like the Sharp FP-J60M (review), which we tested to find is an extremely efficient air purifier with high filtration capabilities. Similarly, one can go for an air purifier that's equipped with H-13 grade of HEPA filter, like the Dyson Pure Cool (review) or the Honeywell Air Touch i9 (review) in a slightly less polluted area.
AIR QUALITY INDICATORS, IOT AND MORE
Choosing a device with the required types and grade of filters is of paramount importance. However, one also needs to look at additional features after this, the top one being an AQI indicator. Almost all air purifiers now sport sensors and a display to show you the current indoor air quality metrics. These metrics are usually based on either PM2.5 particles or the overall air quality. PM2.5 and smaller particles are the most harmful pollutants in the air, which can travel deep into our lungs, enter the bloodstream and cause a multitude of issues and health problems.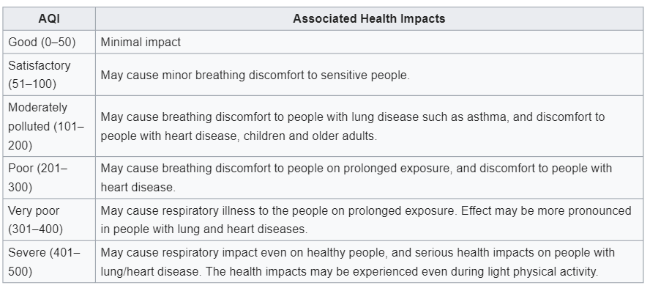 How bad AQI can severely impact your health
One should choose an air purifier that has a display or some type of indicator to represent the current indoor air quality. A small indicator of whether the indoor air quality is bad makes a big difference when it comes to taking immediate action and understanding how well the air purifier is working. Another feature worth having is app support and IoT connectivity. Even if your house is properly sealed, polluted air will still seep in from people moving in and out of rooms and general airflow. Having app connectivity with IoT makes it a lot easier to control an air purifier remotely so that it can be switched on sometime before you reach home, and get additional information regarding indoor air quality.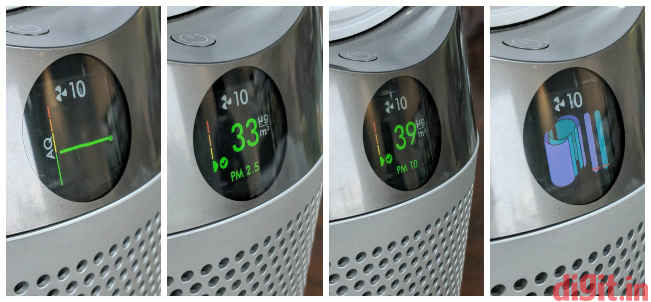 The Dyson Pure Cool air purifier has a great display to show indoor air quality metrics and notable app compatibility with full IoT support
TL;DR
Buying an air purifier need not be a daunting task. One can get a good air purifier by simply keeping some key points in mind. These points include having a physical filter (HEPA or High-Efficiency Particulate Arrestor) that is of adequate size and grade. Look for an H-13 or H-14 grade HEPA filter, along with a pre-filter that removes bigger particles and extends the main filter's life. You might need a Total Volatile Organic Compound (TVOC) filter as well to clear out harmful gases from the air. Furthermore, having a display or indicator to show current indoor air quality is quite important to ascertain how the device is working, and finally, some IoT features are always welcomed.
As for our recommendations, we suggest buying the Sharp FP-J60M or the IQAir HealthPro 250 in heavily polluted areas where AQI exceeds the 200 range. In areas where the AQI is in the moderately polluted section, you can go for air purifiers like the Blueair Classic 280i or the Dyson Pure Hot + Cool or the Honeywell Air Touch i9.  In case you reside in an area where the air quality is good, you might still want to consider getting an air purifier to keep allergies at bay. In such areas, the Sqair by Smart Air or the Mi Air Purifier 2S  is a great choice.
["source=digit"]
About The Author