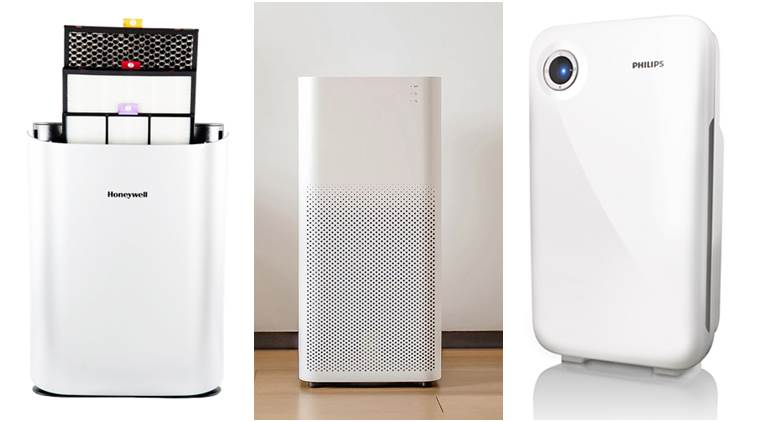 Due to rapid urbanisation, construction, vehicular pollution and dust, India is home to 13 of the world's 20 most polluted cities. A recent study by the World Health Organization (WHO) states that 1.3 million people in India die as a result of indoor air pollution. Moreover, one third of the world's asthma patients are from India. That makes staying healthy outdoors and at home more important than ever.
Not many people in India are aware of the fact the air pollution is abysmal especially in the metros. But people are now slowly waking up to the need to invest in an air purifier for their homes and cars.
While most people understand that the air outside is harmful due to visible pollution, many don't realise how deadly the inside air is. We spend the maximum amount of our time indoors – at home, in a car, inside a public building and at a workplace. Pollutants and allergens such as residues, fungal spores, cleaning agents, cooking smoke, paint fumes, varnishes, pet dander, and accumulated dust can make your indoor air even more deadly than outdoor pollution.
However, with the lack of knowledge and industry standards being haywire in India, buying an air purifier can be tricky. There are many factors to be kept in mind before making an informed purchase decision. It is not only important for a consumer to be aware of certain specifications while buying in an air purifier but also not to be influenced by the sales executives.
The below guide will help you identify with what to look for while buying an air purifier –
1. Room size
This is the most important factor to consider while shopping for an air purifier. The room size will determine as to what kind of air purifier you need (ranging from compact to bigger ones). It is advisable to go for a product that is designed bigger as compared to the size of the room. Also, just don't go by the room area mentioned on the product, consider the room height as well while choosing an air purifier. For example, it will be effective to buy an air purifier which can cater to a 450-500 sq feet room if the size of the room is 300 sq feet with room height of 9ft.
2. Performance
a. Delivery Rate (CADR): CADR stands for clean air delivery rate which means the CADR level will show you how much clean air is coming out of the purifier and how quickly the product functions. Higher the CADR, better is the air filtration capacity of the air purifier. Depending on the type of room space, go for a product that has the highest CADR rating.
b. Air Changes Per Hour (ACH): ACH determines how quickly and often the air purifier can clean the room in an hour. Given the level of pollution we have in cities like Delhi, opt for a product which offers four ACH as the air purifier needs to constantly clean the air every 15 minutes (4 times in an hour).
Considering the fierce competition in the market, brands will boast about their CADR but will not say much about the ACH rating. So even if the product has a high coverage area capacity but shows a low level of ACH, please re-think on the air cleaning capacity and overall quality of the product and chose accordingly.
3. Technology
Technology is a critical parameter to look at while selecting an air purifier. There are products available with both Active and Passive filtration technology. It is important to understand this difference in technology. An air purifier using Active technology releases elements into the air to ionize pollutants that might lead to ozone generation. On the other hand, an air purifier using passive technology are media based filters that arrests and absorbs the pollutants without releasing any ozone making them a better option to consider while buying the product.
4. Filters
We all know that filters are the main components of an air purifier. Hence, the type and quality of the filter determines the effectiveness of the product (just like the battery life of a smartphone). The filter must be equipped to remove pollutants like pollen, dust, smoke, odour and other harmful substances from the air. The air purifier should have a pre-filter that can remove large particles from the air at the initial filtration stage. HEPA (High Efficiency Particulate Air) filters are most effective as they are tested and certified. One should consider that the cost of replacing the filter is huge so the product should have optimum number of filters that lasts for a considerable amount of time before needing a replacement (roughly four-five months). Having said that, one should change the filters regularly to increase the lifespan of the purifier.
Another important factor while buying an air purifier is the "Filter replacement" indicator which indicates the health of filters for timely replacement.
5. Portability
Portability of the air purifier and weight plays an important role. A small air purifier can also have the ability to clean a big room effectively. Don't go by the size and weight as a big air purifier will be costlier and can take up a lot of room.
6. Noise and energy consumption
It is recommended to go for an air purifier which produces less noise so that it doesn't disturb your sleep. Also, it should go easy on energy consumption so that it is light on the pocket.
General points to keep in mind –
1. Air Purifiers don't work effectively when doors and windows of the room are kept open
2. One size does not fit all i.e. a portable air purifier will only cater to one room
3. Considering electricity costs, go for an air purifier with energy saving options/ratings
4. Make sure that the air purifier comes with a warranty, and offers good customer service and easy replacement of filters
5. For best results, air purifiers should be kept running always
[Source:-indianexpress]