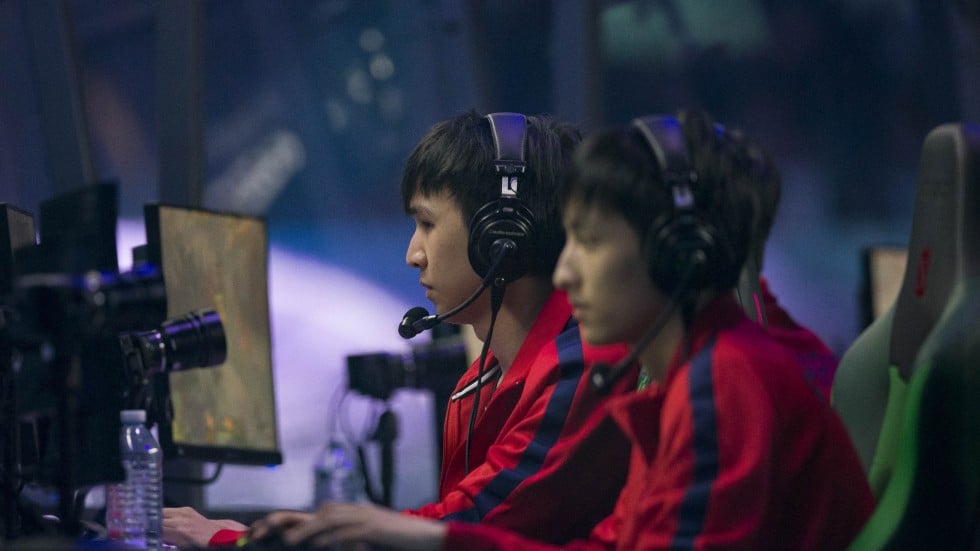 Alisports CEO Zhang Dazhong, who partnered with the Olympic Council of Asia (OCA) to feature electronic sports as a demonstration event in the 2018 Asian Games, said the discipline would need to evolve to earn Olympic inclusion.
"The Asian Games is the first step. We are working towards meeting the standards set by the International Olympic Committee (IOC)," he said.
Players from 18 nations competed across six different games at the 18th Asian Games, which ended on Sunday, in competitive video gaming's debut at a major multi-sport event.
Recognised by the IOC as a sport, the Jakarta event was also a trial run for e-sports to be included as an exhibition event in the 2024 Paris Olympics.
Professional electronic gaming boasts an estimated 250 million players worldwide in a growing market worth about a billion dollars a year.
But the inclusion of battle games like the popular League of Legends is unlikely to convince IOC President Thomas Bach, who said in April that the violence in some games went against Olympic values.
Asian Games 2018: China's League of Legends MVP was a childhood gaming addict, scolded by his parents
Zhang said the titles for the 2022 Asian Games would be more similar to football-themed Pro Evolution Soccer (PES), which was part of the 2018 demonstration event and which Alisports helps promote.
"E-sports should be about sports, not entertainment and about the honour of representing your country," he said, noting that both the OCA and IOC were hopeful that e-sports titles would become sports focused.
The CEO said "a move in the direction of sports-focused e-sports" was happening globally, referencing a crackdown in China on mobile gaming.
Beijing announced on Thursday it would limit the number of new online video games, take steps to restrict the time young people spend playing games and explore an age-appropriate system for players.
The announcement led Tencent Holdings' market value to slump by around $20 billion.
"The (Chinese) government is concerned that the content is too violent and unhealthy for young people, but the government is still supportive of e-sports," Zhang said.
"Right now, there haven't been very serious regulations towards electronic games and on content. We anticipate that in the future this will change and that there will be a clear line on what is e-sports content and what is video games content."
League of Legends dominates Asian Games, as video games survey results shock
Zhang cited Tencent's Honor of Kings, which has more than 200 millions players in China as an example of "violent content" that would probably not be part of the 2022 Asian Games.
Honor of King's international version, known as Arena of Valor, was played in the 2018 demonstration event.
In the long term Zhang sees the lines between electronic and physical sports blurring.
"E-sports is the result of the digital age. With the development of smart technology, there will be more ways to play e-sports that will require physical efforts," he said, noting that he had emphasised this to Bach.
"The shape of e-sports players right now is not so good, but in the future, they will have muscles!"
Alisports is taking an active role in the 2022 Asian Games in Hangzhou, China where Alibaba has its headquarters.
E-sports was originally announced as a medal event for the 2022 Games. But the OCA told Reuters it had put those plans on hold until it acquires a recognised world federation and Asian body.
Although the Asian Electronic Sports Federation (AESF) claims to be the "sole competent authority for electronic sports" in the region, South Korea's International e-sports Federation organises separate world championships and there is no single international body.
Chinese cities buy into US$5.5m 'Olympic Games for e-sports'
Alisports will be making Chinese female athletes a priority, Zhang said, starting with assistance for the country's women's national soccer team who won the silver medal at the Asian Games.
"We are looking to help (Chinese) female athletes. More than 70 per cent of Alibaba's customers are young women," he said.
The CEO said Alisports would be providing financial and logistical help to the team, including for the 2019 Fifa Women's World Cup. The company will also support female e-sports players.
"The equality between men and women is important and they should be able to have the same opportunities in sports," Zhang said.\
source:-scmp