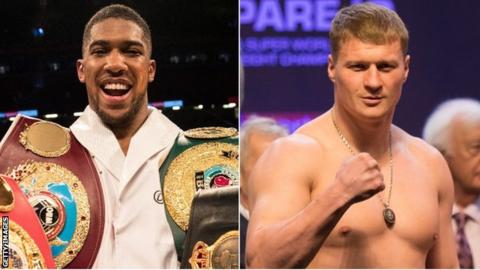 World heavyweight champion Anthony Joshua must sign a deal to fight the WBA's mandatory challenger Alexander Povetkin "with immediate effect".
Joshua also holds the IBF and WBO titles and his camp have been in negotiations to set up a unification fight with WBC champion Deontay Wilder.
But a fight with the American is yet to be finalised and the WBA wants a bout against Russian Povetkin to be set up.
Povetkin knocked out David Price in March to become mandatory challenger.
The WBA could strip Joshua of his belt if he does not fight Povetkin.
"Today the WBA requested an answer from Anthony Joshua's team regarding his fight with the mandatory challenger Alexander Povetkin," said WBA president Gilberto Mendoza in a statement.
"The WBA have allowed over a month extension to negotiations with Povetkin and also ongoing discussions with Deontay Wilder.
"It appears the Wilder team have not returned the contract for the fight and therefore we are requesting a date for the Joshua versus Povetkin fight with immediate effect."
Joshua's promoter Eddie Hearn said his fighter was "frustrated" over the time it was taking to reach an agreement with Wilder's team.
"We can't do a lot more than we are doing," he told Sky Sports.
"Anthony is frustrated. We sent the contract nine days ago. Nothing makes sense here at all. They know we're under pressure from the WBA. It feels like a big game.
"He wants to fight Wilder but at the same time we are not going to lose a belt to the WBA.
"Right now it looks like Povetkin is next but anything can happen in this sport."
Analysis
Mike Costello, BBC Radio 5 live boxing correspondent
As Eddie Hearn has been in parallel negotiations with representatives of Deontay Wilder and Alexander Povetkin – and there have been significant developments in the past 24 hours – in a long-running wrangle, Wilder's team have said the latest version of their fight contract will be returned to Hearn by Friday of this week.
But now the WBA has given Hearn a deadline of only 24 hours to confirm a date for a fight against Povetkin. Hearn had said recently that a likely scenario for Joshua would be to face Povetkin later this year and Wilder in the early part of next year.
source:-bbc