BMW has finally taken the wraps off the new generation F90 M5. The sixth generation of the German super saloon gets the xDrive all-wheel-drive for the first time since its inception in 1985. It is also the biggest, quickest and the most powerful M5 till date.
Being the performance variant of the G30 5 Series, the M5 carries the refined lines of the new 5 Series with the usual M bits. The front bumper is aggressive with large air-vents for better engine cooling. It rides low on 19-inch (20-inch optional) sporty alloy wheels. The rear diffuser houses the characteristic quartet of exhaust tips. Other visual appearances that set the M5 apart include a sculpted bonnet, carbon-fibre roof, and large M-spec compound brakes. The wheels are wrapped in 285/40 section Michelin Pilot Sport Cup tyres.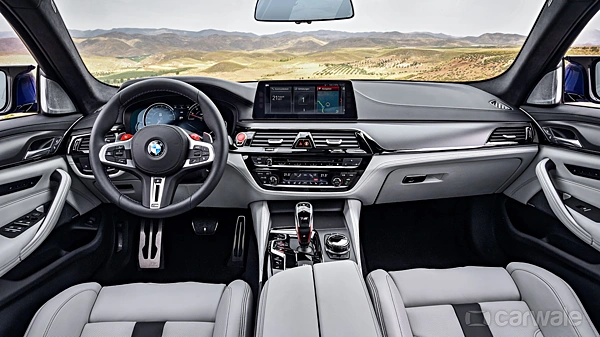 The cabin is well laid out in typical BMW fashion. The sporty steering wheel gets aluminium paddle shifters and two red coloured M buttons on them. The Merino leather upholstery wraps the newly developed M multifunction seats. According to the Bavarian carmaker, these seats provide better lateral support compared to the usual bucket seats. A floating iDrive infotainment display sits atop the multi-button centre console. The 'joystick' gearlever gets red highlights that accentuate its sporty demeanour.
Under the muscular bonnet sits a 4.4-litre twin-turbocharged V8 monster. The reworked motor now breathes out 592bhp of peak power between a 5,600 and 6,700 rpm. Torque is rated at a monumental 700Nm. Due to its phenomenal firepower, the super saloon can accelerate from a 0-100 kmph in a mere 3.4 seconds. The top speed, meanwhile, is electronically limited to 250 kmph. However, with the optional M Driver's Package, the needle can go all the way to 305 kmph. The new M5 tips the scales at just 1,085 kg, shedding nearly 90 kg from the outgoing model.
For the first time in 32 years, the M5 comes with an all-wheel-drive system. In fact, it is the first non-SUV M model to get the xDrive as a standard fitment. The eight-speed M Steptronic transmission channels the raw power to a central transfer case. It distributes the power output variably between the front and rear axle, as required. The M5 also boasts of an Active M Differential at the rear axle.
Therefore, the xDrive system is rear biased to retain the rear-wheel drive heritage of the M5. There are five different configurations available, based on the combinations of the DSC modes (DSC on, MDM, DSC off) and M xDrive modes (4WD, 4WD Sport, 2WD). With the correct setting, the new M5 can be as tail happy as all the M5s that preceded it. Meanwhile, the two M buttons on the steering wheel can be used to store two driver set-ups including engine, transmission, suspension, xDrive modes, DSC modes and Head-Up-Display settings
[Source"indianexpress"]