Image Source: Pexels.com
Working out with the help of dumbbells is one of the most popular ways of transforming your body from fat to fit. A pair of dumbbells is one of that fitness equipment that you can use at your gym, keep a pair or two at your home and can even carry the lighter ones wherever you go. However, buying dumbbells is not an easy decision. Here is a complete buying guide to help you out:-
Types of dumbbells
Before knowing the list of things that you need to consider before buying, you should be aware of the types of dumbbells that are commonly available in the market:-
As the name suggests, these dumbbells do not need any assembly and the length of the rod or the weight of the disc cannot be modified as per your convenience. They can either be cast out of the same material completely or made with a combination of materials. Since it is extremely difficult to detach the disc from the rod, these are durable dumbbells and can bear a lot of pressure before they break. Thus, there is a minimum risk of injury due to breaking off of the dumbbells while you are exercising.
This innovation in dumbbells has made things easier for fitness freaks as they can now have multiple dumbbells options in a single pair. In these dumbbells, the length of the bars can be adjusted and the weight can be adjusted by adding or reducing the number of disks on both sides. They give you value for money. However, you need to be prepared to assemble them and fix them properly every time you want to make some moderation in your training routine. If you want to save this time, look out for selectorized adjustable dumbbells while you are buying your next pair of adjustable dumbbells.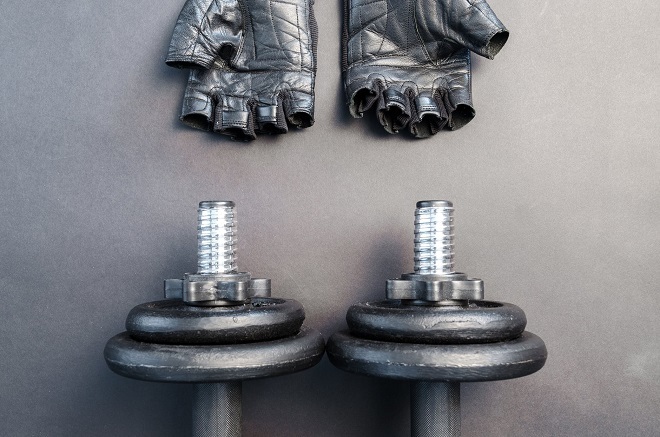 Image Source: Pexels.com
Material of dumbbells
Dumbbells can be classified on the basis of materials that are used in them. Here are some of the popular materials that are used for creating or coating dumbbells:-
These are the most common types of dumbbells and had been used for fitness for a long time. These dumbbells usually have a silver metallic rod with disc or discs in black. The type of grip the rod has varies from one brand to another. You need to be extremely careful while using as they can cause huge damage if you accidentally drop them on the floor.
These dumbbells have a coating of rubber over their discs or plates which makes them look better. This rubber coating helps in protecting your dumbbells from rust as the metal plates are not exposed to moisture. Another advantage of these dumbbells is that the pressure impact on the floor is reduced because of rubber if you drop them on the floor. Also, these dumbbells will prevent your floor from getting ugly scratches. However, you cannot escape from the pungent smell of rubber in the beginning when you start using these dumbbells.
These dumbbells have a coating of vinyl over them and are often made of cast iron. They are usually seen in multiple colours making it easier for you to identify the dumbbells according to their weight if you have too many pairs at your home. The coating is done even on the road which makes it completely smooth. So, if you have a problem of sweaty hands, try to avoid going for these dumbbells as it might be difficult for you to maintain your grip on them.
If you are too conscious about the look of your home gym, do not go for cheap painted dumbbells as the paint can chip off soon because of sweat and you will see ugly dumbbells around.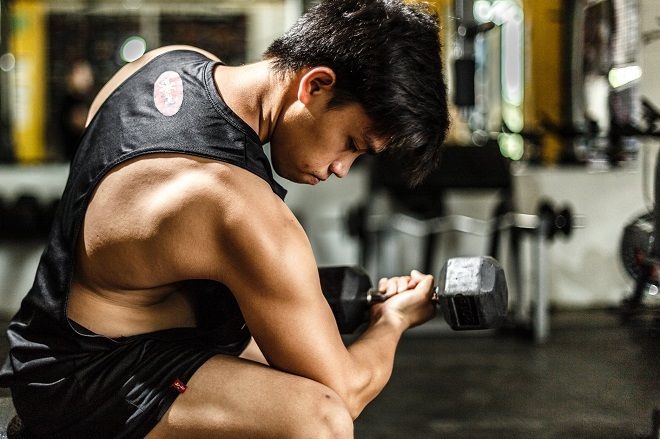 Image Source: Pexels.com
Things to consider while buying dumbbells
Here are the important aspects that you need to consider while you are buying a pair of dumbbells:-
One of the most important things that you must consider while buying dumbbells is the grip of your hands. If you often get sweaty palms while working out, avoid going for those dumbbells that have smooth rods as they can make your training sessions more difficult. The rough ones will increase friction and will not affect your grip so much.
The type of training routine also matters. Depending upon your body frame, strength capacity and exercise routine, you need to discuss the options with your fitness trainer before making the final decision.
It is important that you check the availability of space at your home. It is better that you go for adjustable dumbbells if you have a shortage of space. They can even be completely dismantled when you are not using them.
Find the ideal weight depending upon your training levels. A wrong weight might not be able to give you the desired results of your training.
Keep your budget in your mind while looking for the available options. This will ensure that you do not spend too much and regret later because of overspending. This will also help you in choosing the dumbbells that will give you the best value for your money.
Choose only the popular and trusted brand. You would surely not want to waste your money on something that will not stay good for a long time.
Dumbbell discs are either round or hexagonal in shape. If you do not want the dumbbells to roll away when you place them on the floor, prefer buying hexagonal ones.
Check whether you want to spend additional money in buying storage racks, gym gloves or other accessories. If this is the case, you should try looking for combo offers as you can save more money in this way.
You have the complete buying guide for dumbbells with you. Make sure that you give some good thought before buying instead of blindly going for something that is recommended to you by your friend.
["source=timesofindia.indiatimes"]