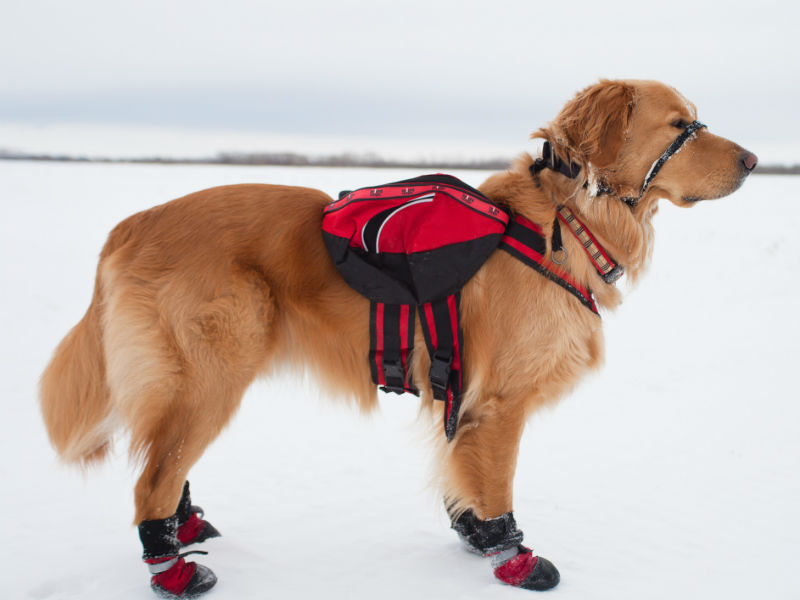 DOGS/PET CARE) Dogs don't typically like staying inside during winters, especially when they are young and active. Restricting your dog indoors throughout the winter can often cause frustration, anxiety, anger, or depression. Consequently, your pooch can develop anti-social behavior or aggression towards other dogs.
Being a pet parent, you need to fulfill your pup's need to go outside, socialize, and exercise for a while to positively channel his/her energy. Take your pooch for walks for short periods of time, but always be sure to protect him/her appropriately from ice and rain outside.
Winter apparel needs vary for different regions and dogs of different breeds and ages. The following buying guide will help you invest wisely on the best dog apparel for icy-cold winters.
Determine Your Dog's Needs:
Firstly, you should be aware of the following facts about your dog:
Their age
Whether or not they have arthritis
The length/thickness of their fur
Whether they're hyperactive or sluggish
Their need for a leash
Measuring Coat Size:
Before setting out to shop for dog apparel, take your dog's measurements to ensure their clothes are comfortable and fit properly.
Topline: The length of the dog's back, from the shoulders to the base of the tail
Girth: The narrow part of the waist, below the ribcage
Chest: The width of the ribcage area behind their front legs
Neck: The area where the dog's collar lies
In terms of coat fittings, make sure the material is not too tight around the neck or waist region. It also shouldn't be too loose, which allows wind to pass through easily.
Leg warmers should only be used for dogs with arthritis. The leg holes shouldn't be too restrictive or uncomfortable, making movement difficult. Narrow holes can also be troublesome for arthritic dogs to pass their legs through with ease.
Types of Winter Apparels for Dogs:
1. Woolen Sweaters:
This apparel is made of soft yarn and fleece, which makes it cozy and comfortable for regions with less harsh cold weather. Dogs with longer fur often find comfort in these thin woolen sweaters as their fur provides them with ample heat.
Hyperactive dogs often enjoy thin-layered sweaters when they go out to play. Warm and insulating coats can get uncomfortable as their bodies can overheat.
For young and fragile puppies, or old and sick dogs, it is advisable to keep them warm even when they are indoors—as their immune system isn't as strong.
2. Waterproof & Windproof Coats:
Waterproof coats made of outer nylon insulation are durable and breathable. For rainy days, waterproof coats can help protect your pooch from getting a cold. For icy-cold temperatures year-round, breathable waterproof and windproof fabric with inner fleece coating is a great choice.
For active dogs, a thinner insulating material is preferred, but make sure the coat doesn't become uncomfortable once the dog starts playing outside.
3. Rain Coats:
Thin, nylon rain-coats are perfect for protecting your dog during rainy days.
ThunderShirts are also great for dogs who get frightened during thunderstorms, and have been proven to help tone down dogs' anxiety levels. Melatonin is also something to consider for anxious dogs.
4. Triple Layer Wind-Resistant And Water-Resistant Coats:
For regions with heavy snowfall and harsh weather conditions, triple insulation coats are ideal. An outer waterproof/breathable layer, a middle layer of quilt-batting, and an inner fleece layer make them a first-rate choice for icy cold winters.
While heavy inner fleece coating is good for inactive, old, young, weak, and sick dogs, it's not always the best choice for hyperactive dogs.
5. Fur or Silicon Booties:
Booties are necessary for dogs to wear outside during snowy winter seasons as anti-freeze that's typically spread onto walkways is toxic to the dogs. There are thousands of dog poisoning cases reported during winters, and most of which are due to the intake of anti-freeze.
Woolen sock booties are comfortable in mild winters, whereas silicone booties are perfect for rainy weather. However, their paw pads may get sweaty in silicone booties since silicone is not a breathable material.
Tip: When buying booties for your dog's paws, make sure the straps are tight enough to remain secure on your dog's paws during a walk, but not so tight that the boots restrict their blood flow.
6. Reflective Collars:
When it comes to winter dog apparel, collars shouldn't be forgotten. Reflective collars are always a good idea, especially during winter when it gets darker outside. Reflective collars significantly improve your dog's visibility, so you're more easily detected by traffic and can find your pooch in case he/she gets off-leash.
source:-globalanimal.