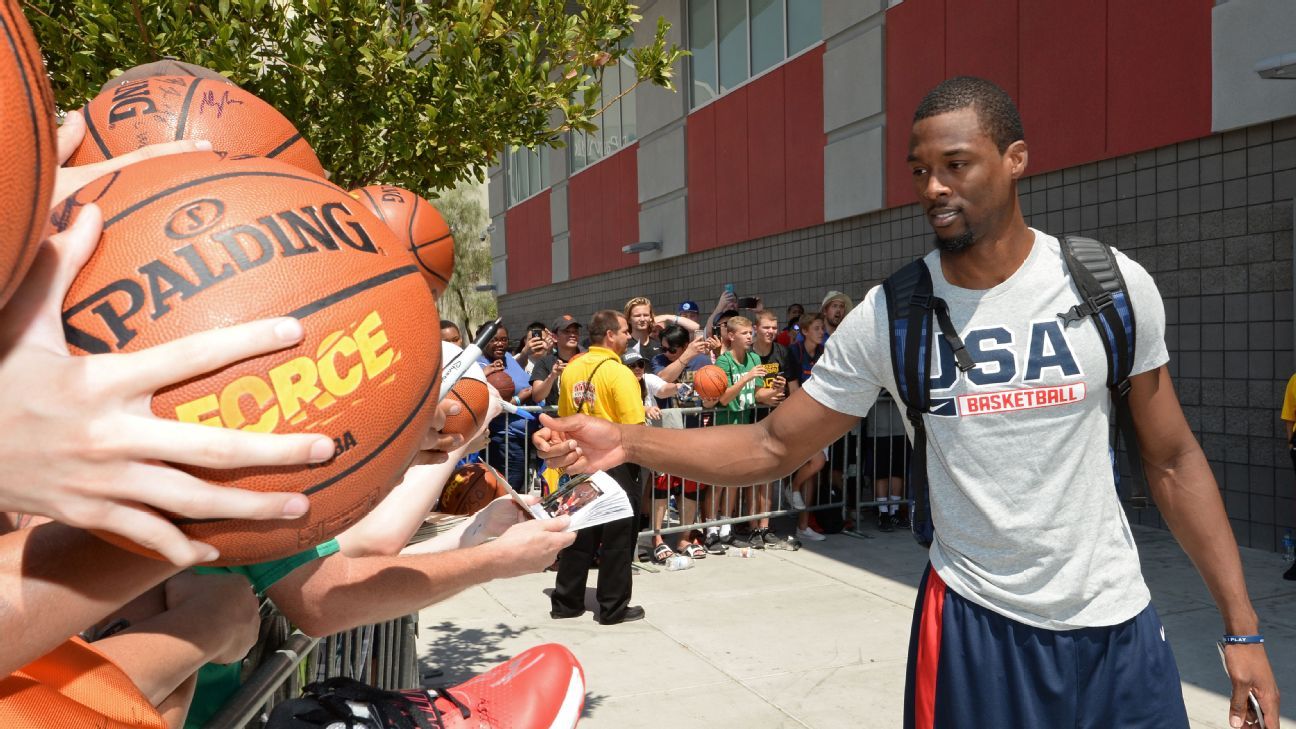 On the first day that the USA Basketball Men's National Team gathered for practice, Harrison Barnes caught up with Kyle Lowry for a moment.
The Mavericks forward was looking for some intel from the All-Star point guard last Thursday, but not about the Toronto Raptors. Instead the two talked about Lowry's experience in Africa last summer as part of the NBA Africa Game and Basketball Without Borders Africa.
Barnes is heading to Africa for the first time as a member of Team World, which plays against Team Africa in the NBA's third Africa Game on Aug. 4 in Pretoria, South Africa.
Lowry told Barnes about how he took nearly a dozen family members on the trip and helped build homes for Habitat for Humanity. Lowry also detailed the cultural and emotional impact his visit had on him.
"[Lowry] took his family with him and did a safari, built homes and learned about Mandela," Barnes said. "He was extremely moved by it and said it was a great experience. I am excited about doing the same thing."
Barnes, 26, is looking forward to what many players have described as a life-enhancing trip. He joins Mavericks teammate Dennis Smith Jr., Milwaukee's Khris Middleton, San Antonio's Rudy Gay, Miami's Hassan Whiteside, the Clippers' Danilo Galinari, Charlotte's Marvin Williams, the Lakers' JaVale McGee and Atlanta's John Collins on Team World.
Philadelphia's Joel Embiid, the Lakers' Luol Deng, Washington's Ian Mahinmi, Portland's Al-Farouq Aminu, Charlotte's Bismack Biyombo, New Orleans' Cheick Diallo, Orlando's Evan Fournier, Toronto's Serge Ibaka and Pascal Siakam and Oklahoma City's Timothe Luwawu-Cabarrot will play for Team Africa.
While Barnes enjoys being a Maverick, he admits the past two rebuilding seasons in Dallas have been difficult for him after leaving Golden State as a free agent in 2016.
After being on a Warriors team that averaged 59 wins during his first four seasons in the league and making two NBA Finals trips, Barnes has endured two rebuilding seasons in which the Mavericks have lost 49 and 58 games.
"It's difficult," Barnes said of what it's been like to go from a winning situation to rebuilding. "I think I've definitely gained a greater appreciation for the process. To be able to understand how good teams are built, how competitive it is every single night, the margin between wins and losses.
"We won 33 games two years ago, 24 games last year. We lost 30 games by five or less, when you go through that, you really start to see how the little things of the game can go either way. I have learned a lot the last two years."