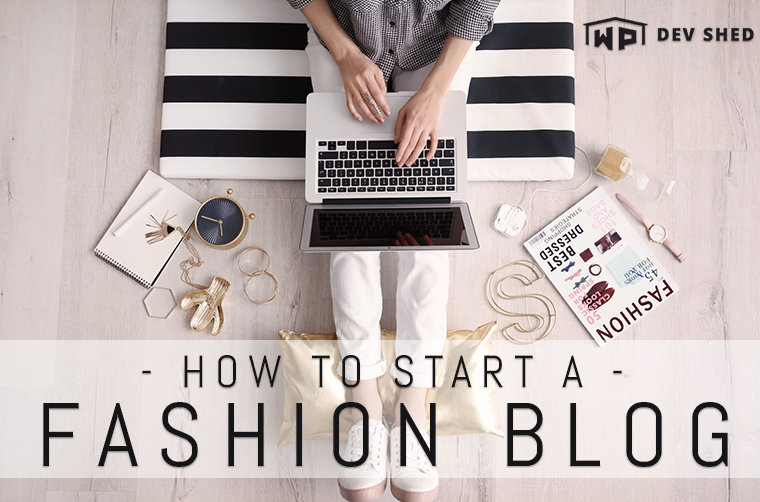 So you want to be a fashion blogger?
Fashion-focused blogs have been around since the earliest online journals began to emerge, but rather than peter out in popularity over time they've evolved into an industry in their own right – and have become far more sophisticated – thanks largely to the technology available to WordPress users.
Whether you want to tap into your passion for fashion, cross-promote your business or generate an online revenue stream, starting your own fashion blog – and developing an avid following of readers – can be a rewarding and lucrative endeavor.
Here's how to start a fashion blog.
Why Start a Fashion Blog?
There are tons of great reasons to launch your own fashion or style blog: not least because it's a high-demand field of blogging, which means readers are actively seeking out great content.
What's more, unlike other more limiting industries and subjects, fashion offers a huge scope to explore, which means you can make your blog stand out from the pack but imbruing your content with your own unique spin and subject matter.
If you're already working in the fashion industry, or have your own fashion-driven business, a blog can be a great way to promote yourself while offering an inside-scoop for readers.
If you want to start a fashion blog for the love of it, or to generate some online income, the key to success is ensuring the subject you choose is one that you're genuinely interested in to keep your blogging momentum going.
We've also written about starting a lifestyle blog or travel blog if that's more your thing.
How to Start a Fashion Blog
If you're new to fashion blogging, WordPress offers users the advantage of a highly customizable content management system that's relatively easy to use.
Content is Key
While great design and functionality are crucial in making a good first impression, any fashion blogger worth their salt will testify to the adage that content is the key when it comes to building an audience and ensuring your readers return for more.
Great content is the lifeblood of a successful blog – but that doesn't mean you require a master's degree in creative writing or need to write thousand-word soliloquies on style every other day to keep your audience interested.
On the contrary – great content can come in many forms, and one of the great advantages of fashion blogs is that they lend themselves to the inclusion of content that isn't necessarily copy-driven.
Offering a feast of different types of content can be a great way to keep your blog fresh, and maintain the enthusiasm of your readers… and perhaps just as importantly, yourself.
Fashion Copy
Written content is a great means of engaging your readers and providing them with information, but it also has the added benefit of being great for SEO.
When you're mindful of incorporating relevant and targeted keywords throughout your copy, you help increase your chances of that content ranking well in organic search results.
Search engines know the difference between quality content and copy that's been keyword-stuffed, though, so always write for people, rather than algorithms.
Fashion may be visual, but there's still tons you can write about to offer useful information to your audience.
You might review a new trend, write a feature on an emerging designer, create a How-To style post on styling or share your thoughts on style icons and heroes.
Creating an editorial calendar is a great way to sustain momentum and a steady stream of content flowing for your readers.
Fashion Images
Fashion is highly visual, which means whatever niche your blog focuses on, you'll need to incorporate a lot of high-quality images to illustrate your topics and support audience engagement.
People are drawn to photographs, and images can be a great way to break up chunks of copy. For fashion blogs, images can also serve well as content in their own right since they offer an immediacy of visual information.
Whether you're sharing your own images, stock images, or product images, make use of photo gallery plugins to display your images beautifully and responsively for maximum impact.
For SEO purposes, be sure to title and caption your images with relevant keywords, and make it easy for your readers to share your images across social media – particularly Pinterest – with social share plugin buttons to help grow your audience.
Fashion Video
Video is one of the most engaging content mediums (in fact, aside from Google, YouTube is the world's most widely searched platform) which is why you'll be hard-pressed to find a successful fashion blogger not making use of it in our age of social sharing.
Thanks to widespread and easy to use platforms such as YouTube, Instagram, and Vine, any fashion blogger with a smartphone can create video content to embed into their posts or share across their social accounts.
And you can create video content about virtually anything – from a direct-to-camera piece on why you think Trend X is going to be big this summer, to a How-To tutorial on organizing your wardrobe, to a quirky stop-motion clip illustrating easy ways to style a particular fashion staple.
Like images, video is considered sticky content, meaning it's the type of content that people are most likely to share with their social networks and friends. Make it easy for them by adding social sharing buttons to your pages and posts. YouTube clips also tend to rank well in organic search results, so creating great video content on this platform can really help you build your audience.
["source=wpdevshed"]