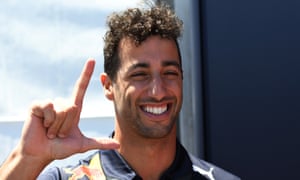 Daniel Ricciardo could become one of the highest-paid Formula One drivers if he accepts a reported monster offer to switch from Red Bull. German media outlet Sports Bild is reporting a $20m-per-year deal is on the table from rival team McLaren for the Australian star, which would more than triple his current salary.
Red Bull power broker Helmut Marko knows the 28-year-old, who is off-contract at the end of the season, is in high demand. "Our Daniel Ricciardo is the king of the market," Marko said. "McLaren offers him more every week."
While the cash is reportedly been thrown around by McLaren, Marko believes Ricciardo is more likely to switch to a higher-profile team like Ferrari or Mercedes if he departs Red Bull. In fact, Marko says Ricciardo is waiting for four-time F1 champion Lewis Hamilton to make a call on his future with Mercedes.
"Ricciardo doesn't want to sign until Hamilton has signed," Marko said. "It's a bit strange. Hopefully it ends soon."
While a huge deal from McLaren would result in a significant pay rise for Ricciardo, he would still be way behind Ferrari's Sebastian Vettel and Hamilton. Vettel has the ability to pocket somewhere close to $60m for his current deal while Hamilton's figure is around $50m.
Ricciardo sits fourth in the title race leading into the French Grand Prix this weekend. The race is expected to be an unpredictable affair, with France having been off the F1 calendar for 10 years. Felipe Massa won the last French Grand Prix in 2008 at the Magny-Cours circuit, but this Sunday's race is at Circuit Paul Ricard, near Marseille.
Ricciardo was leapfrogged in the overall standings by Mercedes' Valtteri Bottas after finishing fourth in the Canadian Grand Prix two weeks ago. Just a point separates Vettel and Hamilton for the title and they enjoy a commanding gap over Bottas and Ricciardo.
source:-theguardian.c