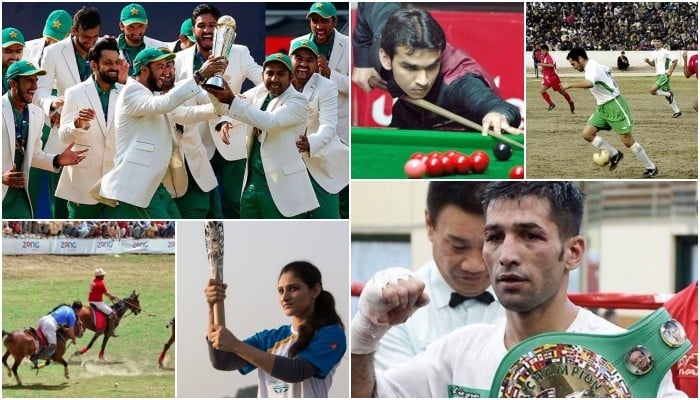 Sports, as one can clearly see, is a unifying factor in Pakistan. No matter how poor the law and order situation is or how tense the political situation gets, whenever a Pakistani team is in action, countrymen and women from North to South remain glued to their TV screens and social media to follow our athletes' performances.
Passion for sports among Pakistanis isn't less than in any other sporting nation. Yet, the country continues to struggle in global sports minus cricket.
With the new government in Pakistan being formed, headed by a former sportsman, one hopes for some concrete steps for sports reforms in the country, instead of mere administrative changes for the sake of change.
There are a few things the new government should work on to improve the standards of sports in the country:
Cricket isn't the only sport
The government should realise that cricket is not the only sport. Pakistan's sports industry is mainly driven by cricket, and cricket takes the major share of all the investments in sports. The new government should work on bringing other sports under similar limelight and introduce legislation to encourage corporates to invest in other sports as well. For example, a tax exemption if a company invests in non-cricketing sports.
Rewrite existing sports policy
We need a comprehensive sports policy which is implemented fully. Before making any such policy, the government should make a task force having sportsmen and women, journalists and administrators, take input from all, and pen down a sports policy which should be applied to every sports body. Term limit on the heads of sports bodies should be strictly implemented.
Introduce sports legislation
In the absence of any proper sports legislation in the country, it has become almost impossible to hold sports bodies accountable for their performances. We need to have a Sports Court which should be under the umbrella of a Court of Arbitration for sports. The court should deal with all the sports-related issues and all sports bodies should be signatories to it.
Appoint competent administrators
It is not necessary that a good sportsperson can also be a good administrator of the game. Some of the best sports administrators like Nur Khan or Arif Abbasi were not international sportspersons. Former sportsmen heading sports federations are not common anywhere. So, instead of having a sportsman heading the affairs, bring administrators who are good at their jobs.
Make sports part of curriculum
Although we, as a nation, are passionate about sports, there are hardly any parents who would want their child to grow up to be a professional athlete. One reason is the cliché that too much time given to sports can halt academic progress. To counter this narrative, progress in sports should be made mandatory for academic excellence. Make it mandatory for a class one student to run a 100-metre race and his/her performance should carry marks in the annual report card. This will not only encourage kids to participate in sports but will also help them build themselves as athletes.
No to parallel sports bodies
The new government should discourage creation of parallel sports bodies in the country. There should be a single authority for each sport and that authority should be empowered and independent to make calls related to its sport. In the end, all such authorities should be accountable and answerable to the country's sports authority as well.
Encourage women's participation
Women's participation in sports should be made mandatory and sportswomen should be given incentives and opportunities on par with their male counterparts.
Broadcast more sports
Broadcast plays an important role in promotion of sports. The new government should make it mandatory for the state broadcasters to give airtime to every national-level sports competition. A foreign league or a match involving no team from Pakistan shouldn't be preferred over an event where Pakistani athletes are participating.
Get corporates in action
We have witnessed recently that corporates are willing to invest in sports (case in point: PSL). Encourage them to invest in more types of sports by providing them incentives.
Lionise the sportsmen/women
There is no doubt that our athletes are highly skilled, but they remain in oblivion. Make them a household name, make them familiar to us, make people connect with their favourite sports figures, spread their stories, share their videos, make brands out of them. And then, see the difference.
source:-.geo