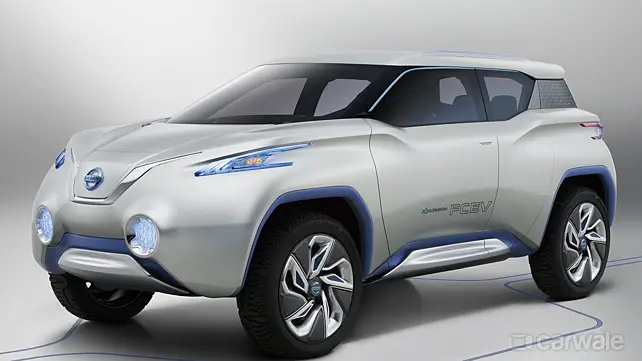 Nissan is all set to reveal the second generation Leaf EV next month. The Leaf has been a pioneering vehicle in the electric scheme of things. The Japanese carmaker will now employ the platform of the new-gen Leaf to spawn new electric models in the coming years. Based on records of a name recently patented by Nissan, one of the first electric vehicles to be based on the Leaf is likely to be called the Terra.
The new Terra EV will be a crossover. The name was first seen on an electric crossover concept called the Nissan TeRRA Concept showcased at the 2012 Paris Motor Show. The TeRRA Concept used the first gen Leaf's powertrain along with a futuristic hydrogen fuel-cell system. The Terra name was trademarked with the Malaysian patents office at the start of this month. The upcoming Terra will share its underpinning with the new Leaf along with its aluminium chassis and the battery packs.
The jacked up Terra will keep a keen eye on the upcoming Tesla Model Y which will serve as an adversary to the Japanese car. Apart from it, European manufacturers like Volkswagen Group, BMW Group and Daimler are leaving no stone unturned in the development of their electric portfolio. Thus, the upcoming Terra will have more than few competitors to look out for.
The Terra crossover will be the first of the many vehicles which will employ the tried and tested Leaf platform in the coming few years. With electrification in full swing these days, Nissan doesn't want to be left behind compared to the European and American counterparts; given the fact that the original Leaf was the first mainstream electric car back in 2009.
It is unclear when the Japanese carmaker will reveal the production spec electric vehicles. However, expect the new Leaf-based electric vehicles to show up before the turn of the decade.
[Source"cnbc"]