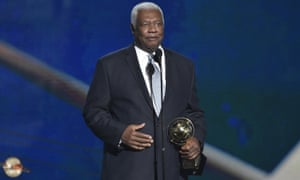 NBA hall of famer Oscar Robertson has said white athletes must do more to assist their black teammates in fighting social injustice.
"I think that as people evolve, and things are changing so much in the world with social media and whatnot, these people are young people who have families," Robertson, who was named an NBA All-Star 12 times in his 14-year career, said. "They've seen some injustice in the streets or wherever it might be, it might be almost anywhere, and they're stepping up. But the only thing that really bothers me is where are the white athletes when this is happening?"
Robertson, who was speaking at the NBA Awards on Monday night, said injustice affects everyone. "This is not a black athlete problem," said the 79-year-old. "You see injustice in the world. It's all around you. Just because LeBron [James] steps out, I'm glad he does. I hope some other players – because this is what they believe – I mean, what do you want players to do? Shut up and dribble? I think it's time for them to say what they want to say about life and about politics and things about the street and whatnot. And about education."
Robertson was the head of the NBA Players' Association when it won a case against the league that helped usher in an era of higher wages for players. He said football players must unite if they want to take on team owners. "I hope … the whites and the blacks get together. Even with the football. What do you think is going to happen when the union gets involved with the owners? You think it's going to be settled really easily? No, it's not. It's going to be nothing but a total mess."
In the NBA, players such as James and Stephen Curry have spoken out against the presidency of Donald Trump while headlines in the NFL have been dominated by the issues of players kneeling during the national anthem in an attempt to highlight social injustice. While the vast majority of protesting players in the NFL have been black, some white players have joined in. Cleveland Browns tight end Seth DeValve knelt during the anthem last year, while the Philadelphia Eagles defensive end Chris Long spoke out against the far-right rallies in Charlottesville and donated his 2017 salary to charities involved in education equality. "I think it's a good time for people that look like me to be here for people that are fighting for equality," Long said last season.
Robertson appeared at Monday's ceremony to receive the lifetime achievement award.
Since you're here…
… we have a small favour to ask. More people are reading the Guardian than ever but advertising revenues across the media are falling fast. And unlike many news organisations, we haven't put up a paywall – we want to keep our journalism as open as we can. So you can see why we need to ask for your help.
The Guardian's independent, investigative journalism takes a lot of time, money and hard work to produce. With investigative reporting, we often don't know at the beginning how a story will unfold and how long it might take to uncover. This can mean it is costly – particularly as we often face legal threats that attempt to stop our reporting. But we remain committed to raising important questions and exposing wrongdoing. And we do it because we believe our perspective matters – because it might well be your perspective, too.
I appreciate there not being a paywall: it is more democratic for the media to be available for all and not a commodity to be purchased by a few. I'm happy to make a contribution so others with less means still have access to information.
Source:-theguardian