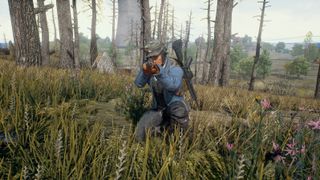 [Update: Could we soon see a mobile version of PUBG outside China? It certainly looks like it. An official PUBG mobile game for Android has had a soft launch on the Canadian Google Play Store. The mobile version appears to be a replica of the console and PC versions, though understandably it's less graphically impressive. No official announcement has been made for a further roll out or an iOS launch just yet but we'll update as soon as we find out more.]
When it comes to Battle Royale games, PlayerUnknown's Battlegrounds (or PUBG for those already inducted into its action) is a name you need to know.
Over the past year the game has had a stratospheric rise, going from a Steam Early Access title to a full Xbox release, with a massive following on streaming services like Twitch and Mixer.
Available on PC and Xbox One, it'll throw you into a 100 player death match in a constantly shrinking map where you or your team must fight to be the last alive. If you win you get to see the coveted "winner winner chicken dinner" appear on your screen. And you'll undoubtedly screenshot it because it doesn't appear often.
Bluepoint has been slower in updates recently due to its efforts to curb cheating in the game. However, it looks like the team is ready to get on with its 2018 roadmap and here you'll find information on the latest additions to both the Xbox One and PC versions of the game as well as what's planned for the future.
What's the latest PUBG update for PC?
PC update 7 is here
The most recent patch for PUBG on PC is a good deal more significant than its Xbox update, bringing in some brand new features as well as a handful of big fixes.
One of the more significant additions is a new emote system which sees 12 standard emotes added to the game: hello, go, yes, thank you, clap, laugh, surrender, rage, you're done, no, provoke, and come here. There will be more in the future, but these are enough for basic communication at the moment.
There's also now an in-game friends list which can be up to 50 players long. Regardless of which platform they're playing on, players can be friends and as it's a one-way system there's no need to send requests. Conveniently there's also now a main menu voice chat so that you can speak to your team while not actually in the game.
Outside of these new features there are also some quality of life improvements which should see reduced lag and a significant reduction in bugs.
What's the latest PUBG update for Xbox One?
Xbox update 10 has now landed
In the latest Xbox update for PUBG, players will see no new content but there are a variety of bug fixes that should greatly improve consistency of play.
One of the bigger fixes is for player revivals which were being reported as continuing despite being interrupted. Outside of this issues which saw players unable to cut parachute cables when getting stuck on landing have been solved as well as an annoying issue which saw B and Y buttons staying active in gameplay while in the map view.
What's coming to PUBG on PC?
Updates for PlayerUnknown's Battlegrounds have slowed somewhat in recent months as a result of the development team's focus on reducing instances of cheating in the game (the update for which has been held back). However, there are big plans for the game throughout 2018 which have been laid out in a March blog post.
Starting in March, Bluehole is planning to push out a major update every two months for PC, with each either changing systems or adding new content.
April will see a brand new 4×4 map launched on the game's experimental test server. This new map is much smaller than any we've seen in PUBG before and it will have a higher player density and shorter match times. Bluepoint is promising that this will result in much faster and intense gameplay.
There's also a slightly larger 8×8 map in the works though details on this are thinner on the ground.
There are also talks around brand new game modes (though these are still in their early stages) as well as new vehicles and weapons, many of which are planned for the first half of the year.
There will of course be continued stability improvements as well as ongoing efforts to curb cheating.
2018 will see Bluepoint building the foundations for an eSports league and a lot of work will be done on improving spectator experience.
Though the list of changes in the works are not exhaustive, they're a good idea of the ambitious things to come.
What's coming to PUBG on Xbox One?
The future for PUBG on Xbox One seems to be more focused on improving the quality of player experience because, as Bluepoint itself admits, the game's performance on console is just not up to the standard it should be.
Console players can expect to see a patch released every two to three weeks which will focus on optimizing performance, UI, inventory UX, adding more personalized controller options and improving matchmaking.
Players can also expect to see those emotes that the PC version now has at some point down the line. But the biggest thing? The Miramar map will be coming to Xbox in early spring.
Source:-techrader