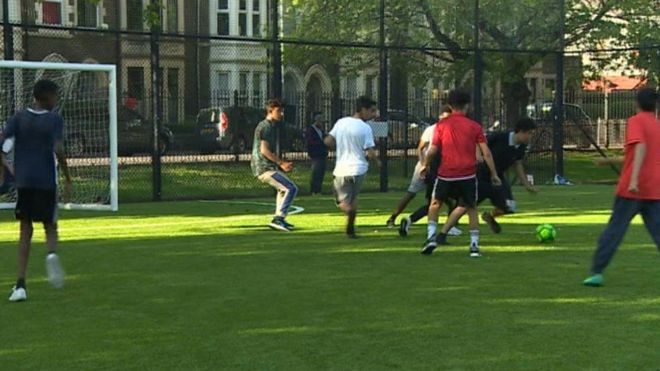 Race Council Cymru (RCC) said the body responsible for participation, Sport Wales, should engage more with grassroots organisations.
Sport Wales said a £540,000 programme has supported community groups and trained 150 new volunteers.
But it accepted that more needs to be done.
Sport Wales said it does not have enough of a sample size from surveys on BME participation among adults.
Barriers for minority groups in sport
'Barriers' to women's sport highlighted
Its research in 2015 showed a complex picture with a "stubborn inequality" still existing – Asian men participate more in sport than white men, but Asian women far less than white counterparts.
It also surveyed school pupils and found half of black children were "hooked on sport" compared to 36% Asian and less than half white.
RCC, which represents more than 30 Welsh grassroots organisations, said funding needs to be more widely available.
Chief executive Uzo Iwobi said: "I think they've done a number of programmes that have worked in parts of the country but not overall.
"I think we need to think again about how we engage because there's this concept of trying to fix people, of trying to provide solutions without people."
A two-year BME Sport Cymru project, worth more than £500,000, has led to nearly 3,500 people taking part and is due to be extended until March 2019.

You might also be interested in these stories:
Girls and women 'missing out on sports benefits'
Poverty and lifestyle challenge for sport in Wales
Extra £3m to tackle sport inequalities

Tom Overton, head of community sport at Sports Wales, said: "I accept that we can always do more but… I don't think it's just the role of Sports Wales.
"When we look at the benefits of sport and physical activity, there are social, health and economic benefits – there's a real opportunity for collaboration between different organisations, be that in the health and education sectors."
He added: "We've got the fantastic Commonwealth Games at the moment and people will be looking at that and they will aspire and want to be one of those athletes in the future.
"So we have to do far more about developing, supporting and offering opportunities to those role models from the BME community."
source:-bbc