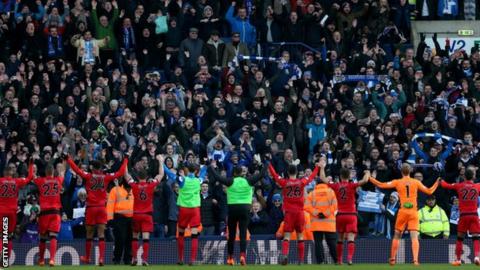 The pilot scheme would have meant 3,600 seats in the Smethwick End were converted to 'rail seats', which can be locked in an upright position.
West Brom – who are bottom of the Premier League – hoped to install them in time for next season.
Sports minister Tracey Crouch says there are no plans to change the all-seater policy at football stadiums.
That law was introduced followed recommendations made in the Taylor Report into the 1989 Hillsborough disaster, which claimed the lives of 96 Liverpool fans.
But West Brom say their proposal was based on safety concerns, because of persistent standing.
Celtic's safe standing explained
Shrewsbury first English club to apply for safe standing
The club's director of operations Mark Miles, who has led the proposal, described the decision as "surprising" and "disappointing".
"I think the minister has taken a short-sighted view and is preventing the club from creating a safer environment for supporters," he said.
"The all-seater policy was developed over 25 years ago and football is a very different place now."
Miles has travelled to Scottish champions Celtic and German club TSG 1899 Hoffenheim, where the same system is used.
"The system we proposed is well tested across Europe and has also worked successfully at Celtic, who are governed by different legislation than in England and Wales," he said.
"We were prepared to run a pilot which would enable the club to gather data and feedback to further inform us in the issue of crowd safety.
"But I have become convinced that rail seating would enhance safety. The club is extremely disappointed with this decision and we have written back requesting a review."
A spokesperson for the Department for Digital, Culture, Media and Sport said: "We have no plans to change our position and introduce standing accommodation at grounds in the top two divisions covered by the all-seater policy.
"Alongside the sports ground safety authority we will continue to monitor the issue of spectator accommodation and the use of safe standing where it is permitted."
How would it have worked?
The standing positions would have been offered to both home and away supporters.
Away fans would have been given a choice of whether to stand in the upper section of the stand or sit in the lower part.
Ticket prices were expected to remain unchanged and the necessary changes would have been completed in time for the new season in August, when the Baggies are likely to be playing in the Championship.
West Brom's safety officials have tried a number of initiatives to resolve the problem of persistent standing in certain areas of the ground.
The club sought to allay security fears and problems with identifying troublesome fans by highlighting their high-resolution cameras fitted in the stands.
Advanced ticketing and new turnstile operations have also been introduced in recent years.
Officials are also said to have emphasised they would enforce a much more stringent requirement for fans in other sections of regular seating to remain seated.
History of all-seater stadiums
The current legislation relating to all-seater stadiums dates back to the early 1990s and the recommendations of the Taylor Report.
That requires all clubs in the top two divisions of English football to have seating.
Any sanctioning of 'rail seating' would not require a change in the law. Instead, it is thought to be down to the Secretary of State for Digital, Culture, Media and Sport to modify how they exercise powers given to them by the legislation.
Celtic – given Scottish clubs are not subject to the legislation affecting their English counterparts – successfully applied to Glasgow City Council to install 'rail seating'.
Their 2,600 rail seats were used for the first time in July 2016 and the club have had visits from a number of English sides keen to learn from their experience.
Source:-bbc.