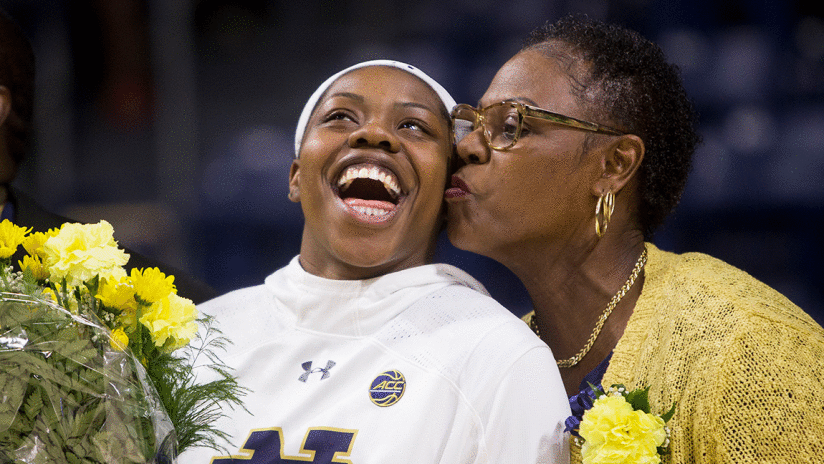 Buccaneers running back Dare Ogunbowale sports a bright red sweatshirt pregame, the word 'Burberry' embroidered in black to match his hat and jeans. One can't deny the swag and how very Bucs appropriate the outfit is – there's only one problem: this isn't a Bucs game.
It's the NCAA Women's Final Four and his sister, Arike Ogunbowale, plays for Notre Dame whose colors are navy, green and gold. In other words, a very far cry from the red and black Dare is currently wearing.
"No, no, I'm really superstitious," Dare assures.
Apparently, starting in college, Dare never wore Notre Dame colors when going to watch his sister play. Somewhere along the way to a Most Outstanding Player Award in the 2018 NCAA Women's Basketball tournament, a single-season record for highest scoring average in school history during her junior season and some of the most successful seasons Notre Dame women's basketball has ever seen, Dare decided it was working.
He isn't alone in his superstitions. Arike has them, too. But neither of them have anything on their mother, Yolanda, who says she's 'terrible' with superstition and has been since her softball-playing days at Chicago's DePaul University.
"Before games I don't really even talk to [Arike] but she has to call me," Yolanda said. "Even when she's mad at me. She just has to call and then ok, click, bye."
Much like her superstitions though, Yolanda, along with Dare and Arike's father Gregory, made sure to instill sports in their children right from the start.
"We had them playing sports at a very young age," Yolanda said. "They started playing soccer first [before basketball]. Dare was playing football. Arike played flag football. We still had her in ballet, tumbling and tap, too, you know what I mean? On one Saturday, she went from a tutu to a football to a soccer ball all in one day."
That well-roundedness has helped Arike to become one of the most notable faces in women's basketball. After Notre Dame won the NCAA tournament last year, Arike was introduced to her idol, NBA legend Kobe Bryant, on Ellen and was also a participant on ABC's hit TV show Dancing with the Stars. This was all as a current college student as she finished up her junior year. To most of the world, it's probably fair to say Dare is Arike's brother, not the other way around.
But to Arike, the Bucs' running back will always just be her older sibling. And to her, that means the guy she leans on for everything. It's been that way since they were little, with Dare helping to show Arike the ropes in sports, especially. He looked out for her but at the same time, was never one for excuses – not that Arike ever tried. Starting in the backyard and in the basement of their childhood home in Milwaukee, Arike was always playing with her two older brothers and cousins, all of which were boys.
"They're all in the backyard battling and she's the only girl out there," Yolanda recalled.
You could probably say Arike's must-win attitude stems from from the chip on her shoulder of being the only girl in those times. She made a point to always try to outdo her older brother, especially. They weren't without a healthy dose of sibling rivalry, after all. But their relationship had already developed to go beyond the brother-sister bickering. Whatever Dare did, so did Arike, and he was a more than willing coach.
At one point, their parents bought Dare Cristiano Ronaldo's Play Like ChampionsDVD, from which he taught himself every trick. He then passed them all on to Arike, spending hours in the basement with her perfecting each one. His father credits sports with why Dare and Arike became such good friends. Dare was able to give Arike a preview of what to expect, being three years her senior. Now that they are both at the highest levels of their respective sports, he's her biggest supporter.
"I go to him with really everything, before a game, after a game," Arike said of her big brother. "I talk to him every day about everything. He's my best friend. It's definitely good to have him go through everything he goes through and he's super smart. He knows a lot of things outside of sports; life situations, basketball, anything. It's definitely good to have him in my life."
Long gone are the days when both parents used to coach their children. Yolanda was Arike's basketball coach in the beginning and Gregory coached them in soccer. But their children's abilities have far surpassed their own these days. The role of critic and challenger now belongs to Dare.
"He can analyze the game and tell her, ok this is what I see, this is what the other team is doing," Gregory said. "I can say all I want to say to her about it [waves hand dismissively]. If Dare says it, then it's bible."
"I think as they got older, that's when Arike really started listening to him and his opinions and really going with what he says," Yolanda added. "I think she really saw that as she got older and as she was able to capitalize on it."
"Our job now is to say, hey, have a good game," Gregory concludes. "Like I'll say, 'Dare, did you talk to your sister?' He'll say yeah and I'll be like good, ok."
Dare admits his parents think he's too easy on Arike sometimes. But that's only because he just tells them what he thinks she did well. In reality, no one is more invested in Arike's performance and no one is more willing to call her out on it. In the first game of the Women's Final Four as Notre Dame was battling UConn, you could see Dare, red sweatshirt and all, jumping to his feet in jubilation for every clutch three-pointer Arike made or every tough play she surely wished she could have back.
At one point, during foul shots for UConn on a foul Arike had committed, Dare stood up and started talking to her from his seat three rows behind the Notre Dame bench as she walked toward mid-court facing him. And she looked to be paying attention.
The respect comes from a lifetime example Dare has set, though his route in sports was a bit more unconventional than Arike's. Where Arike was consistently the best player on each team she played with growing up, Dare had to prove himself more along the way. He didn't receive an initial scholarship offer from the University of Wisconsin to play football but went on to be named a captain his senior season along with a selection to the East-West Shrine Game and an NFL Combine invitation. And that may have taught Arike the biggest lesson of them all.
"My brother's path was way different than mine because he was a walk-on his freshman year, but he grew to be a captain and all that stuff," Arike said proudly. "That may have even better though because success wasn't handed to him. He had to do a lot to get to where he was and it helped me to keep working hard even though I was blessed to be in a different position than him, it's the same hard work."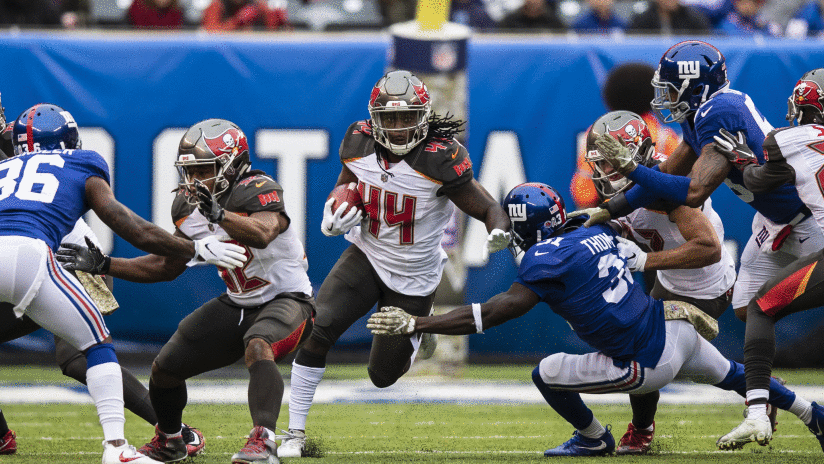 But for all the things Arike says Dare has taught her, of which she says there are plenty, she's taught him a big lesson of her own that has helped propel his own athletic career.
"Probably the biggest thing that I got from her is however much success you've had at whatever you're doing, just don't lose sight of how hard you work," Dare said. "She got a scholarship offer from Marquette the summer after her seventh-grade year yet she'd still beg me, 'Dare let's go to the gym.' I'm like why? You don't need to. In the back of my head at that time, I was just really immature with stuff like that because I wasn't a great athlete at that time. I'm just like why the hell do you want to work out right now? You're the best player in the state. But now I get it. Even now, she'll still send me Snapchats of her in the gym at 11:30 p.m. I kind of adapted that and now I would consider myself a really hard-working person. I have a lot of people tell me I'm a hard worker and I feel like I got it from her.
"She's taught me more than that, I'm sure. I get a lot from her. She's a dope human."
She's a humble human, too. When asked who would win one-on-one these days she says it's 'usually' still Dare. Ask Dare the same question, though, and you get a different answer.
"We haven't played one-on-one since I was in college, probably," he says. And the reason? Because she beat him.
"Once she beat me, I didn't want to play her anymore," Dare laughs. "I would play her again now though, we just haven't had the time. She would beat me again, too, but I'm secure enough in where I'm at to let that happen."
For now, he'll watch from the stands as his best friend competes for her second national title when Notre Dame takes on Baylor. He'll be the one jumping out of his seat as his parents sit there the nervous ones. And Arike will do what Arike does, which according to Geno Auriemma, the coach of the UConn team she and the Irish beat on the way to their second consecutive championship game, is take over the game she's been playing ever since it was just her and Dare on the backyard hoop.