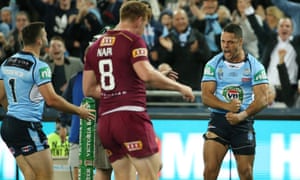 Qld coach Kev Walters is interviewed by Darren Lockyer as the teams head out. "We're positive," he says. "We didn't do a whole lot wrong."
Yep, that certainly is taking a positive approach to things. Obviously he hasn't seen the stats we've just seen.
Facebook
Twitter
Google plus
5m ago12:15
Second half coming up. NSW have all the momentum (thanks, in part, to those two try-saving tackles in the shadows of half-time) so Qld will need to overturn that early doors.
Here are the first half stats. Special mention to missed tackles and completion rate: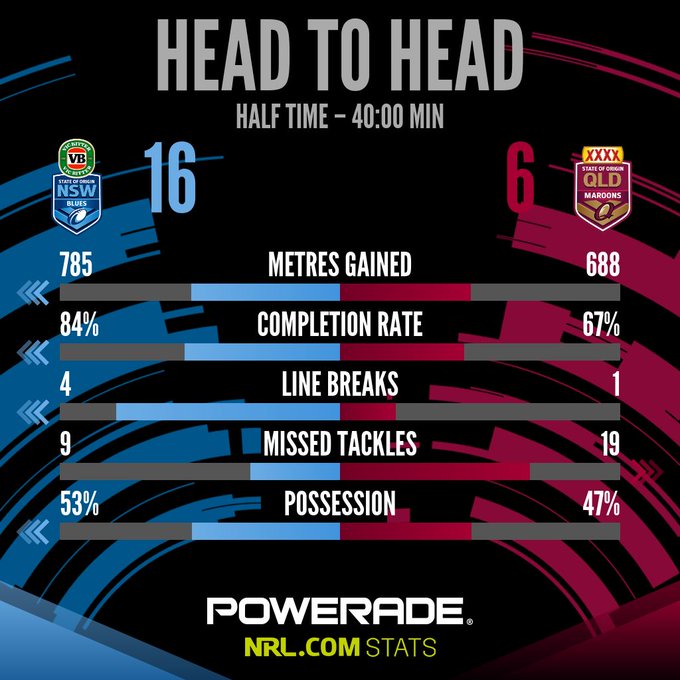 Facebook
Twitter
Google plus
16m ago12:04
Half-time: NSW 16-6 Qld
Phew, that was tough, fast-paced, hectic and thrilling. That's Origin for you. If you're just joining us, where have you been?
Qld scored the opening try but it's been NSW ever since. Take a breather. I'll be back in a tick.
Facebook
Twitter
Google plus
18m ago12:02
40 min: Blimey! What a finish! First Trbojevic pulls Cronk down when he seems certain to score. Trbojevic wrestles him back from the line and folds him in half like an envelope on which you've jotted down your shopping list.
Cronk then plays the ball as the siren sounds. Qld go left, Thurston hits Gavin Cooper who is flipped on to his back, by Dugan, as he's about to crash over, and Cooper cannot get the ball down! Two try-savers in two tackles!
Facebook
Twitter
Google plus
22m ago11:57
39 min: Tedesco grabs a Thurston grubber in the NSW in goal. Can NSW hold their 10-point lead with half-time nigh?
Facebook
Twitter
Google plus
23m ago11:56
37 min: Thurston grubbers from a long way out, which catches no-one by surprise. NSW pick up inside their own 10m line. A few tackles later Pearce kicks to Gagai again. It's like he's trying to kick to him.
Here's that 'bombed' try that may come back to haunt Hayne and NSW: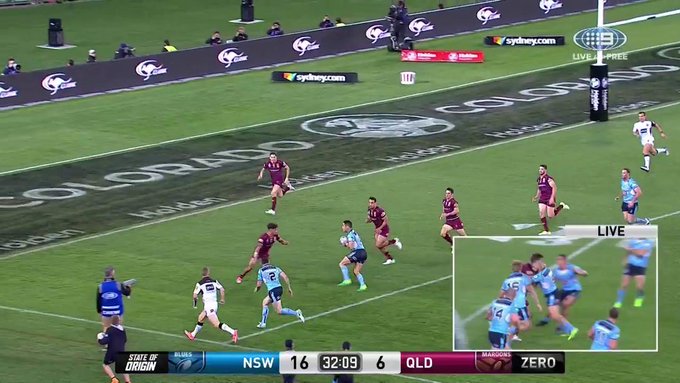 Facebook
Twitter
Google plus
26m ago11:54
34 min: Penalty to NSW after Cooper is pinged for knocking the ball from Klemmer's hands as the Blue was playing the ball near the halfway line.
Phil Withall, as reliable as a Swiss watch with an overdeveloped sense of responsibility, writes in: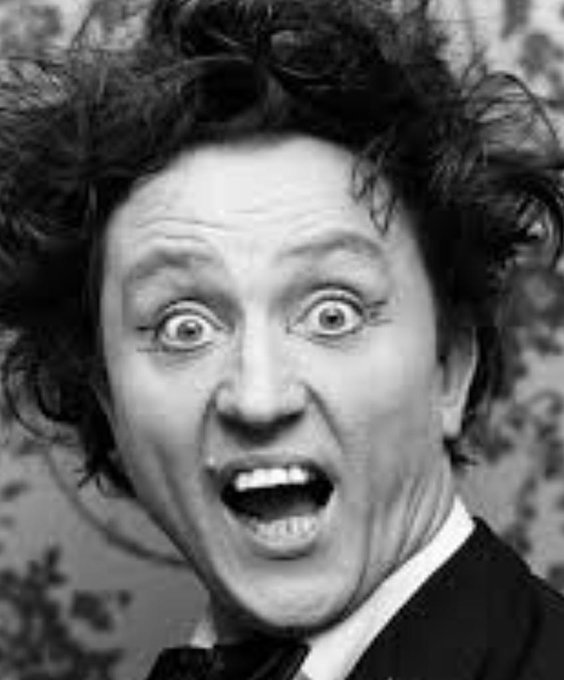 [Source"pcworld"]