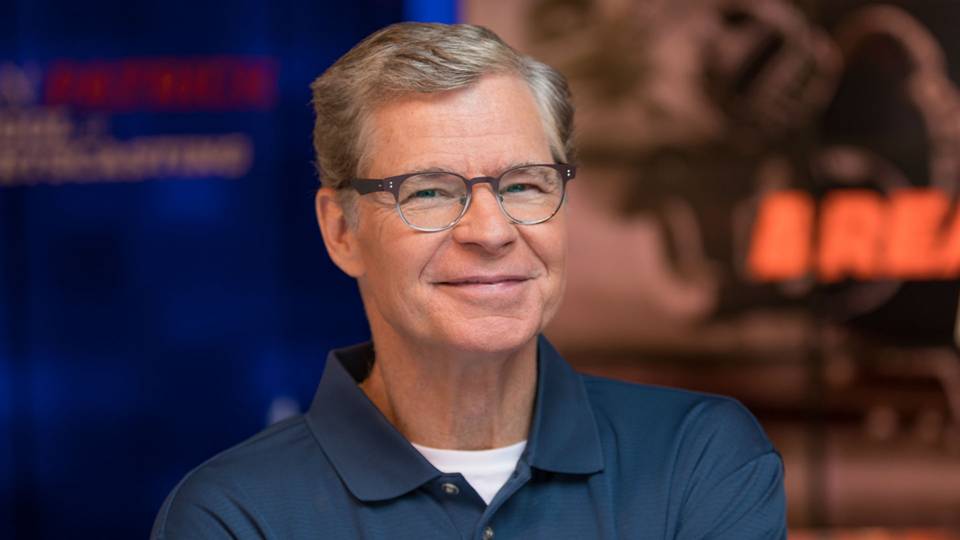 NIt UPDATE: Dan Patrick confirmed Sporting News' exclusive story that he recently met with former employer ESPN.
Speaking on NBCSN's "Dan Patrick Show" Monday morning, the legendary sportscaster said he met with ex-ESPN president John Skipper only days before Skipper suddenly stepped down for a "substance addiction" on Dec. 17, 2018.
Patrick's dual contract with NBC Sports and AT&T SportsNet expire this month. Patrick stated on his show Monday that he wants to continue to host NBC Sports' "Football Night in America" and his own TV/radio program with his "Danettes:" Paul Pabst, Todd Fritz, Patrick "Seton" O'Connor and Andrew "McLovin" Perloff.
Recalling his sitdown with Skipper, Patrick said he was looking to place his "Sports Jeopardy" show on ESPN's afternoon lineup. Patrick — who left ESPN in 2007 after famously co-hosting "The Big Show" with Keith Olbermann — also wanted to set up a "feeder" system of interns for his new broadcasting school in Florida.
Patrick is one of the rare talents who has succeeded on his own after leaving the ESPN "Mothership." Skipper noted his place as one of the most popular "SportsCenter" anchors in ESPN history, according to Patrick. Skipper dangled the possibility of Patrick and ESPN teaming up in the future.
"He said, 'Look if we can do anything down the road I'd like to do it.' I said, 'I love what I'm doing with Football Night in America.'"
Take a look:
Skipper was interested in re-teaming Patrick and Olbermann for the 6 p.m. SportsCenter, said sources.
It will be interesting to watch how things ultimately shake out with Patrick over coming weeks.
NBC declined to comment on his contract status.
PREVIOUS: ESPN has explored a very big reunion with prodigal son Dan Patrick.
A spokesperson for the company confirmed to Sporting News Sunday that it has talked with Patrick, whose dual contracts with NBC Sports and AT&T SportsNet expire this month. But ESPN sources said a reunion with Patrick is unlikely to happen barring a miracle Hail Mary pass at the last second.
MORE: Al Michaels promises no protest lectures during Super Bowl 52
"We had conversations with Dan and he has many fans in Bristol. But our radio lineup is strong and we aren't looking to make a change," spokesman Mike Soltys told Sporting News.
As the longtime host of NBC "Football Night in America," Patrick hosted the network's Super Bowl 52 five-hour pregame show from U.S. Bank Stadium in Minneapolis. He has his own weekday "Dan Patrick Show," which can be heard Monday through Friday; 9 a.m. to noon ET.
Patrick left ESPN in 2007. Along with Robin Roberts, he's the most successful on-air talent to leave on his own terms. A Patrick comeback in Bristol would present several intriguing possibilities.
ESPN could re-team Patrick with his former "Big Show" partner Keith Olbermann on the 6 p.m. ET SportsCenter. After napalming his bridges with ESPN years ago, the peripatetic Olberman popped up again on ESPN shows recently. The 6 p.m. SportsCenter is in flux, with co-anchor Jemele Hill leaving Friday for The Undefeated after less than a year on the job and Michael Smith now hosting solo. The old 11 p.m. show co-hosted by Patrick and Olberman is still revered as the best SportsCenter pairing ever.
As the host of "Football Night in America," Patrick would also fit nicely as host of ESPN's "Sunday NFL Countdown" pregame show (10 a.m. to 1 p.m. ET). With Samantha Ponder replacing Chris Berman, and a revamped cast, including new hire Rex Ryan, Countdown's TV audience dropped 12% during the 2017 regular season. The double-digit fall set off alarm bells in Bristol, said sources. Patrick would bring instant credibility and humor to the show.
Patrick could not be reached, according to his representative. NBC spokesman Dan Masonson said the network doesn't comment on contracts.
The decade-long separation between Patrick and ESPN has been thawing. Scott Van Pelt invited Patrick to be the first guest on his new midnight "SportsCenter" in 2015. Patrick jokingly showed Van Pelt his "visitor's pass" while visiting the Bristol campus.
Patrick was also supposed to be the second guest after Van Pelt on "Barstool Van Talk." He even filmed the segment with Dan "Big Cat" Katz and PFT Commenter. But ESPN canceled the show after only one episode. Before suddenly resigning as ESPN president due to a "substance addiction," John Skipper went out of his way to make Patrick feel like he was still part of the extended ESPN family.
But getting Patrick wouldn't be easy for ESPN. The veteran anchor likes setting the table for "Sunday Night Football," the No. 1 show in primetime for seven straight seasons, said sources. During his time with NBC, Patrick has worked the biggest sporting events, including the Super Bowl and the Olympics.
["Source-sportingnews"]