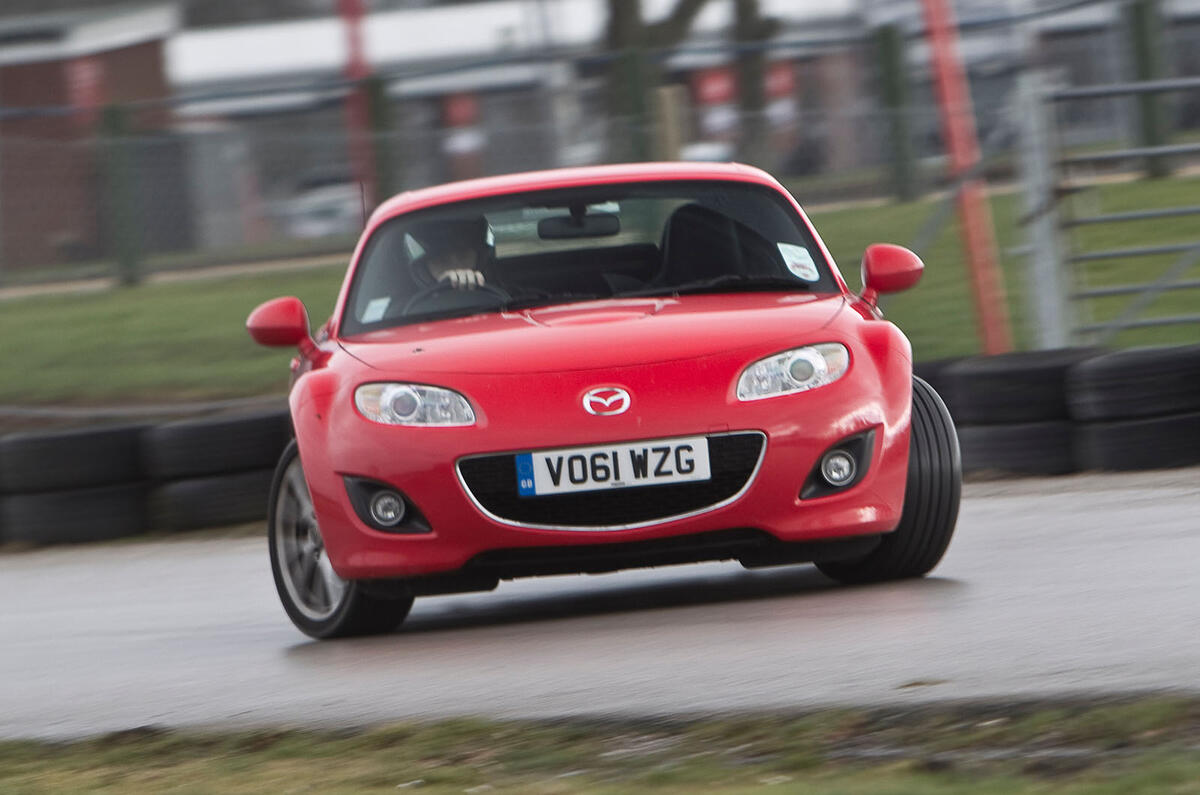 Mid-winter: what better time to buy a Mazda MX-5? Convertibles have come a long way since the days of draughty MG Midgets but car buyers' instincts haven't.
It'll be spring before they think about shopping for one. A great time to strike, then, while they aren't looking and prices are soft.
Not a Mk1 or Mk2, mind: too rusty and silly money. The Mk3's the one you want. Not that certain sections of the motoring press thought so when it was launched in 2005 in roadster and, the following year, folding hard-top forms. Some thought it had gone a little soft but Autocar declared it roomier, quieter, safer and better equipped, while finding it as entertaining to drive as ever.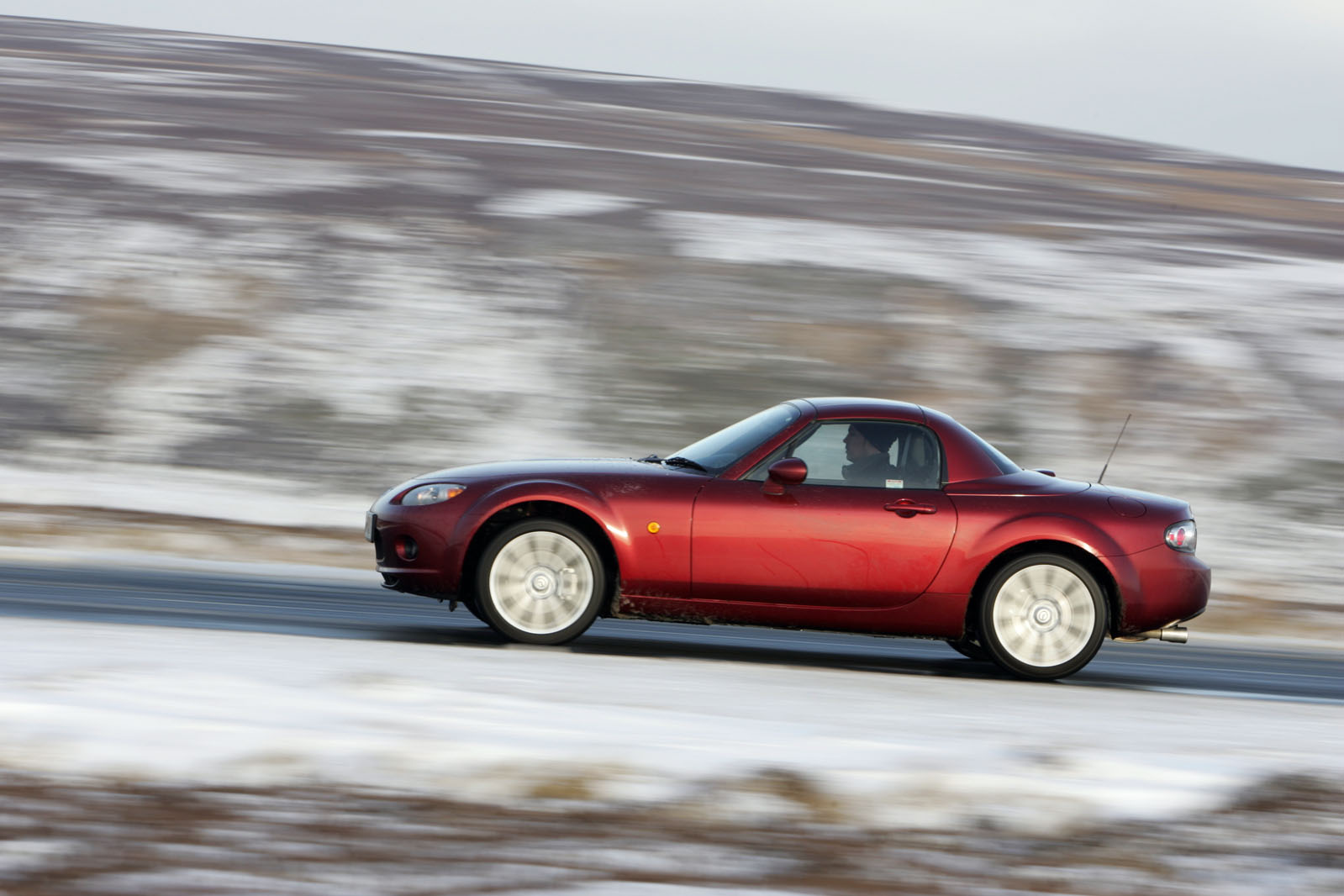 You've a choice of 1.8 and 2.0-litre engines, the 2.0 with variable valve timing and a limited-slip diff. The 1.8 has a five-speed gearbox, the 2.0 a five-speed in standard trim and a six- speed in Sport. The 2.0 and 2.0 Sport have 17in alloy wheels and the 1.8 has 16s. In addition, the Sport has firmer Bilstein suspension with a front strut brace, traction control, heated leather seats and an uprated Bose stereo.
The 1.8 is comfier, cheaper to insure, lighter on fuel and perfect for tootling but the 2.0 Sport's the one to have. Naturally, it's more expensive. For example, £2500 will buy a 2005/55-reg 2.0 Sport with 130,000 miles and full history or a 2007/07 1.8 with 80,000 miles. On the other hand, another £1000 will bag a 2007/07 2.0 Sport with 75,000 miles.
A major facelift in 2009 brought retuned suspension, a revvier 2.0-litre engine and a stronger folding mechanism for the hard- top. Crucially, seeing that it's our recommended version, the Sport was replaced by the Sport Tech.
Three years later, the model was facelifted again, this time gaining a radically reworked nose in line with Mazda's new look. It also boasted a more pedestrian-friendly bonnet complete with explosive charges to raise it away from the engine to give the unfortunate individual a softer landing. Throttle response and brake pedal feel were improved, and the Sport Tech acquired an integrated TomTom sat-nav with a 5.8in touchscreen and alloy pedals. All versions got climate control.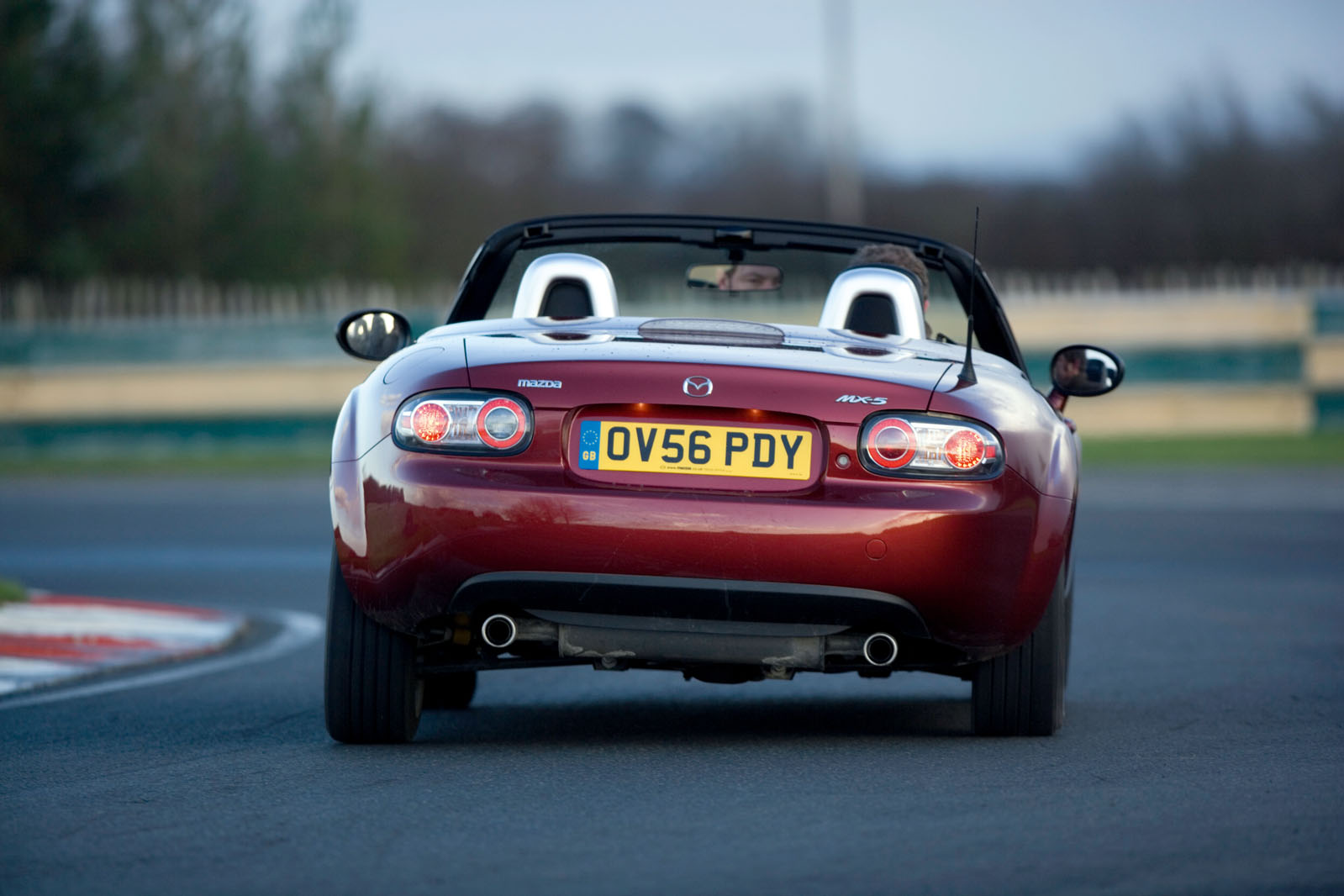 This being an MX-5, special editions are numerous and include the 20th Anniversary Limited Edition of 2010 based on the 1.8 SE, and the Venture of 2012, which has TomTom sat-nav.
The specials aside, it's 2.0 Option Pack cars you're likely to see in numbers. Not to be confused with 2.0 Sport models, these have a premium cloth hood, stainless steel scuff plates, a leather steering wheel and a couple of additional speakers. Together, they give the otherwise standard 2.0 on which they're based a welcome lift.
Regardless of the version, dip the oil, check for smoke, look for uneven tyre wear, and feel for a quick gearchange and precise steering. All good? Then what are you waiting for?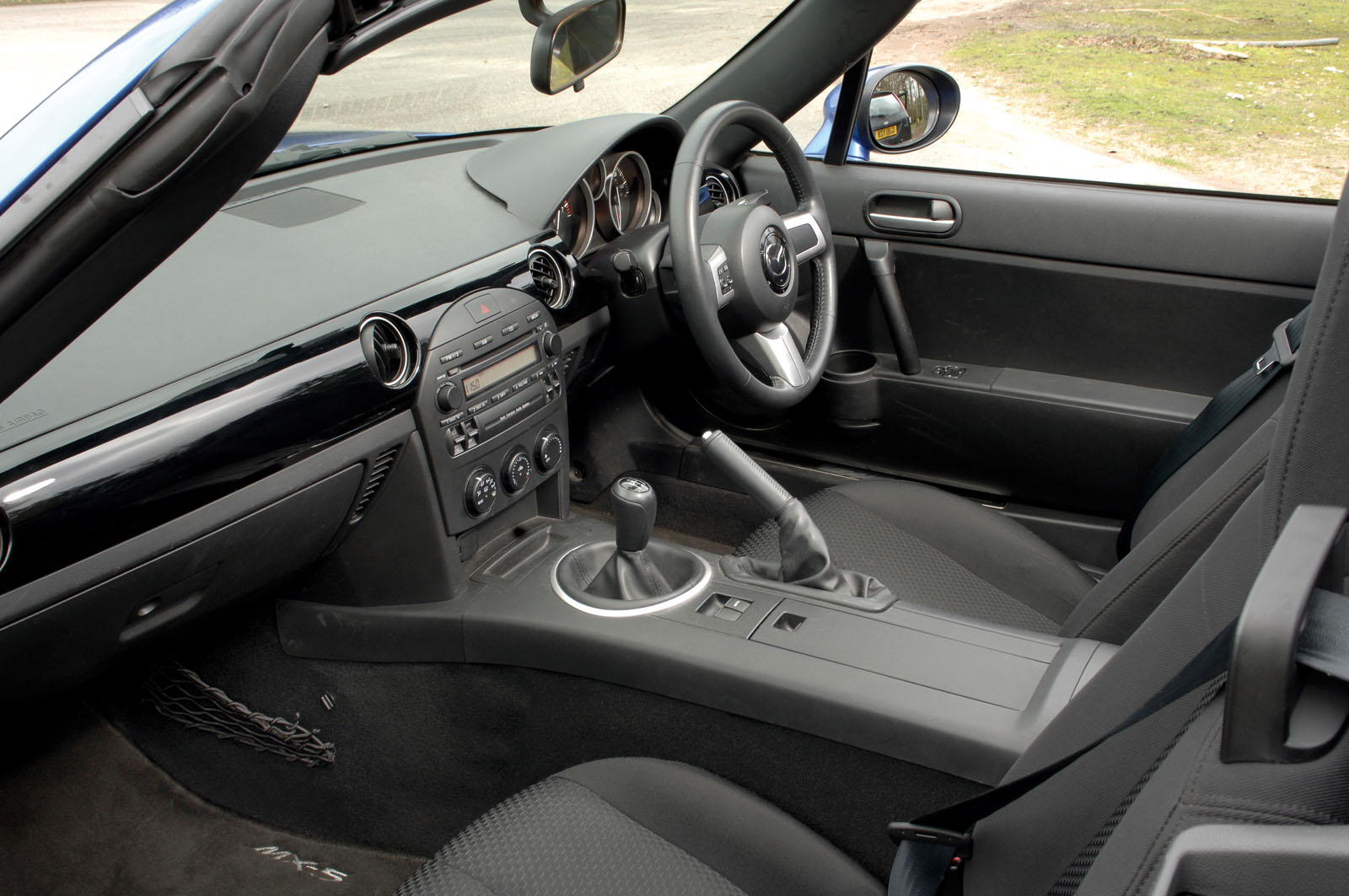 How to get one in your garage: 
An expert's view – Paul Roddison, Roddisons motorsport:
"The 2.0 Sport is the one to buy. I know from experience that the 1.8 is less popular, because whenever we stock them, they can hang around for months. Saying that, there's nothing fundamentally wrong with the model, and if you're on a budget, there's nothing better. We've raced MX-5s for years and, in my opinion, the Mk3 is the best of the lot; better than the Mk4, in fact. Engine and diff oil are the two main issues. Regarding engine oil, there's not enough spare capacity whentheleveldrops.Withthediffoil,the official change interval is too long. Change it every two years."
Buyer beware…
ENGINE – Check the oil level is spot on, look for oil smoke and listen for a rumbling crankshaft. High-milers can suffer broken wires in the coil-on-plugs. It has a timing chain, not a belt, but the tensioner can fail.
GEARBOX – Expect the action on five and six-speed gearboxes to be stiff from cold but to loosen up. Listen for a noisy rear diff.
SUSPENSION AND BRAKES – Check the dampers. Listen for knocking from front and rear anti-roll bar drop links, which last around 40k miles. Inspect for irregular tyre wear. Brake hard to check for pulling since the calipers are prone to seizing.
BODY – Expect the underbonnet, boot and chassis to be superficially rusty. Check for uneven panel gaps, orange peel paint, overspray on rubbers, new wing bolts and a mismatched bonnet slam panel. Check the clips securing the plastic panel beneath the wipers. They can channel water into the interior. Ensure the hood drain holes are clear and feel for damp carpets. Check the roof operation on early coupés.
INTERIOR – Watch for warning lights staying on, especially DSC (dynamic stability control), caused by battery disconnection. It should go out when you turn the wheels from lock to lock. Ensure both keys are available since a new one is expensive.
Also worth knowing: 
The Mk3 is highly sensitive to wheel alignment. On the test drive, check the car tracks precisely and feels pointy and alert. The seller will try to convince you all is well. Stick to your guns and negotiate an alignment (and maybe new tyres) as part of the deal.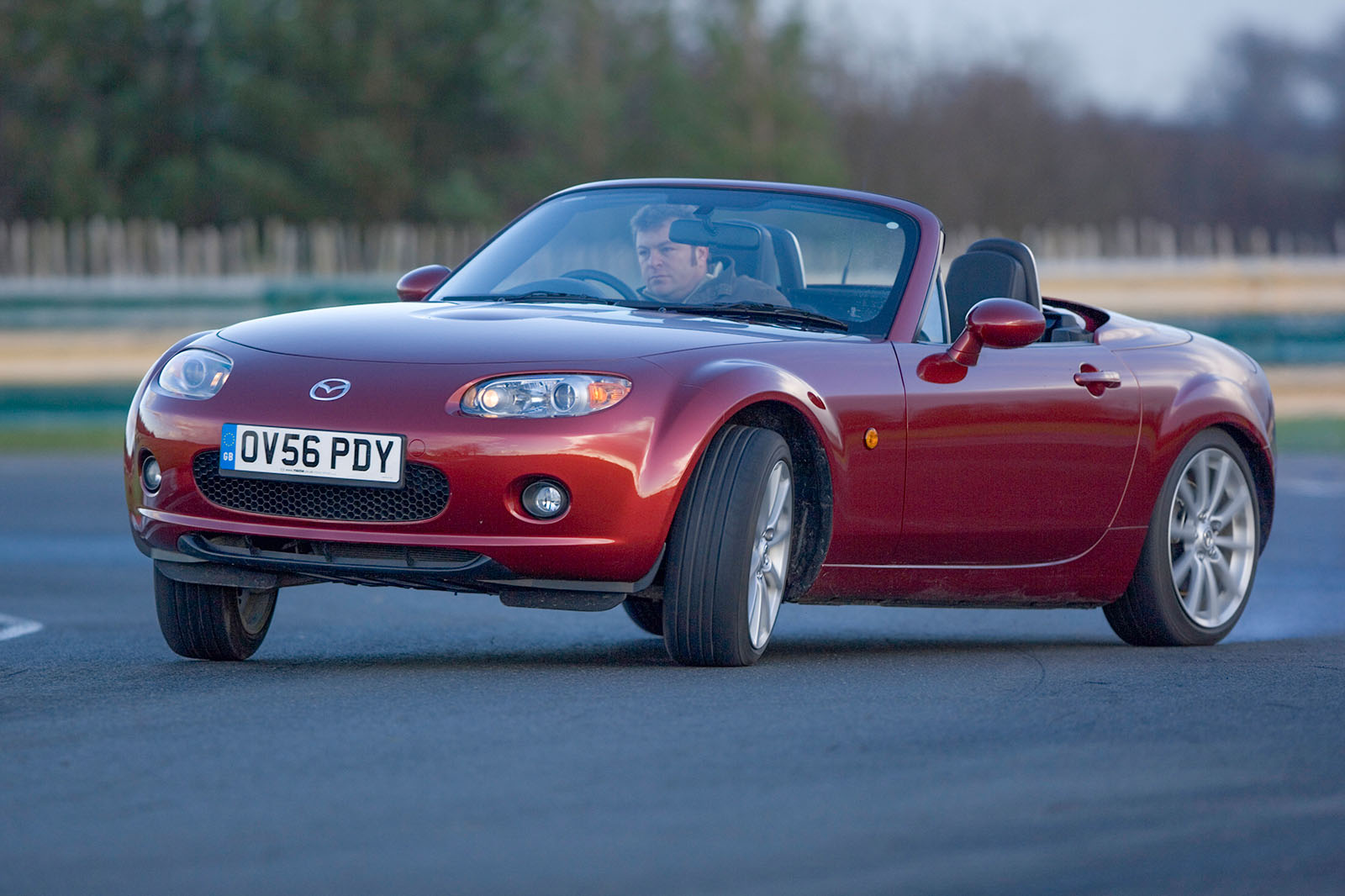 How much to spend: 
£2500-£3749 – Early (2005-2007) cars, including a 07-reg Sport with 75k miles for £3500.
£3750-£4999 – Lots of middling-mileage (around 75k) 2007 and 2008 Sports.
£5000-£7449 – Plenty of tidy 2007-2009 Sports, such as a 57-reg with 57k miles for £5495 and an 08-reg with 42k for £6995.
£7450-£8999 – Some 09-reg and 10-reg 2.0 Sport Techs with up to 50k miles for £8k or so.
£9000-£11,999 – Take your pick of 11-reg and 12-reg cars.
£12,000-£16,000 – Late-plate to the last Mk3s (£15,998 for 15-reg 2.0 Anniversary, 7k miles).
One we found:
MAZDA MX-5 2.0 SPORT, 2009/09, 62K MILES, £6750 This dealer-sale hard-top has a full service history (eight stamps in the book) and comes with a proper RAC warranty, including 12 months' roadside assistance. It has two keys, black heated leather seats and air-con and it is finished in classic silver.
["Source-autocar"]