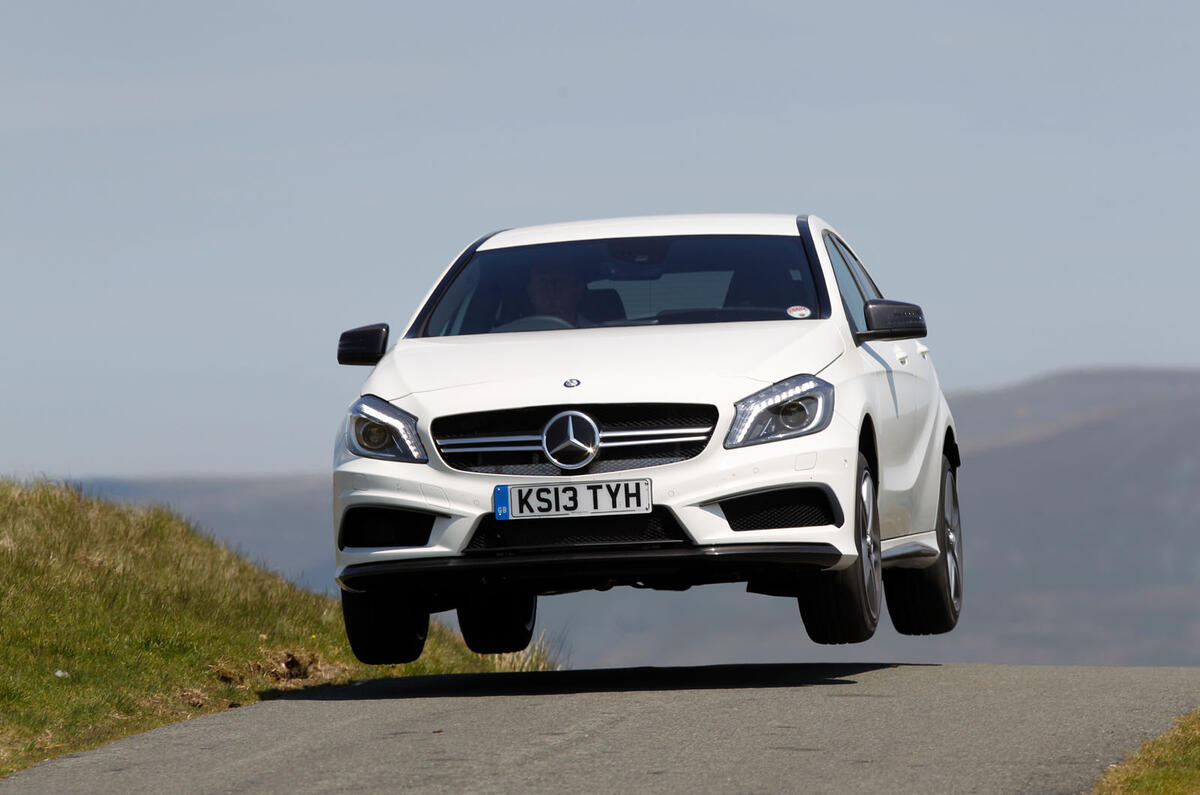 Six years since they first hit the road, the initial Mercedes-AMGA45s are beginning to look reasonably affordable. New and in standard trim, they were £37,845 – a huge number even for this hottest of hot hatches and one that quickly grew to £42,000 with options. Today, and thanks to depreciation, these first-generation cars start at £20,000.
We're not talking multi-owner, high-milers with flaky service histories, either. A surprising number are one- or two-owner cars, have done less than 40,000 miles and, depending on mileage, have the requisite five or six main dealer stamps in the service book.
Back in 2013, the A45's 355bhp 2.0-litre turbo petrol engine was the talk of the town. Thanks to part-time, 4Matic all-wheel drive, it could use it, too, with the result that 0-62mph takes just 4.6sec. The seven-speed dual-clutch transmission with steering wheel-mounted paddles is a box of delights that can simulate double-declutching on downshifts and features three driving modes.
The exhaust has a flap for a fruitier rasp, or close it when you're feeling more chilled. Other goodies include lashings of carbonfibre trim, grippy sports seats, a sat-nav and climate control. Topping it all off is stiffened AMG suspension and a bodykit.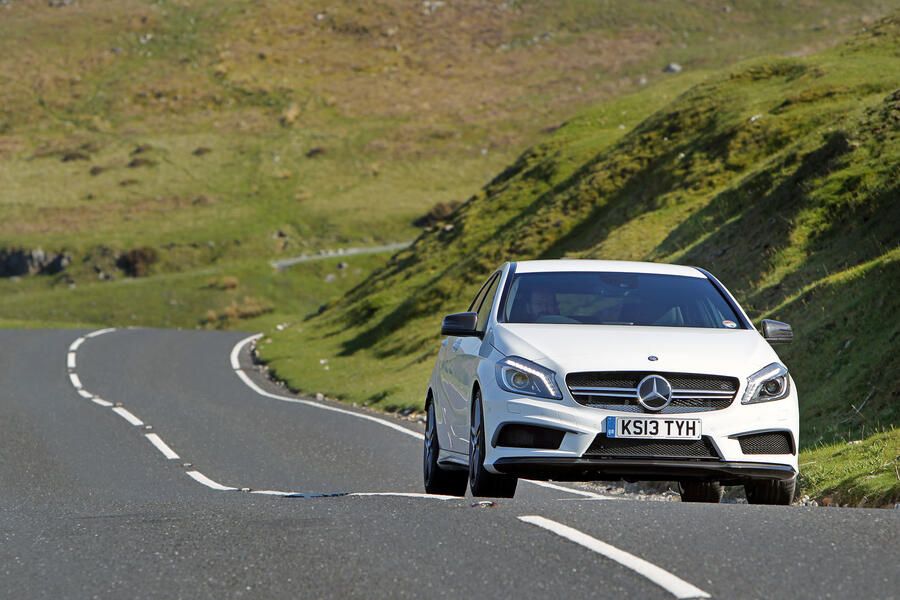 Those are the standard bits, but monied first-buyers thought nothing of splashing another £4000 or so on extras such as the AMG performance exhaust. Like all such adornments, these depreciate faster than the car they're fitted to, but don't expect to pick up a loaded A45 for pennies: the right kit (the Aero pack is desirable) still commands a premium.
It was all going so well, and then in 2015 the 362bhp Audi RS3 arrived to embarrass the lesser-powered A45. Mercedes was forced to respond and three months later, in June 2015, it revealed the 2016 model-year A45 with 376bhp. In addition, it gained revised gear ratios, some aero tweakery and new driving modes. AMG Dynamic Plus joined the long options list bringing a locking diff for the front axle, adaptive damping and a none-too-subtle driving mode called Race.
A45 and RS3 each cost £40,000 new but, today, prices for a good, 2016-reg, 376bhp A45 start at around £27,000, while a good 2015-reg RS3 is around the £30,000 mark.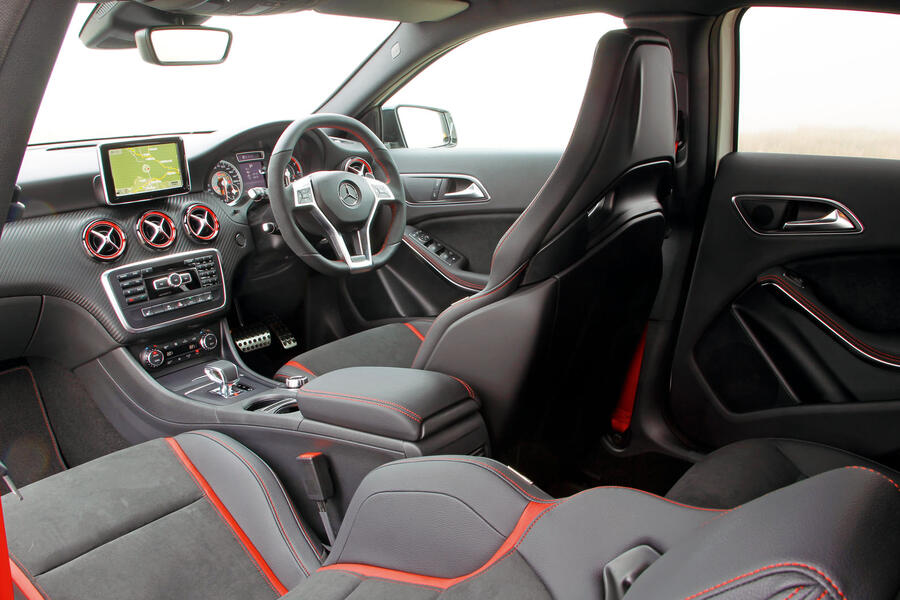 A few months later, Mercedes celebrated winning a second successive Formula 1 crown with the launch of the A45 Petronas 2015 World Champion Edition, complete with unique paint job and special trim. It cost £46,000, and today one with 12,000 miles is still £42,000.
During the six years it was on sale, the A45 proved to be a relatively durable motor. There are issues with early turbos and the dual clutch 'box, both easily resolved. Instead, the bigger problem is sorting the wrapped racers from the honest cars. A full Mercedes service history is a good place to start and if it's wearing budget rubber, walk away.
How to get one in your garage
An expert's view
Cloin Jackson, founder and MD, Poject Three (p3amg.co.uk): "Like all high-performance Mercedes, the A45 has very specific servicing requirements, so don't even think of treating it like a peasant treats his donkey – it simply won't stand for it. Vehicles fitted with the optional ASBO pack, officially known as Aero and comprising front winglets, rear winglets and a rear spoiler, seem to be popular. Personally, I like the stock, sleeper look. I've owned four of them and in my opinion it's leagues ahead of rival Audi and Volkswagen models."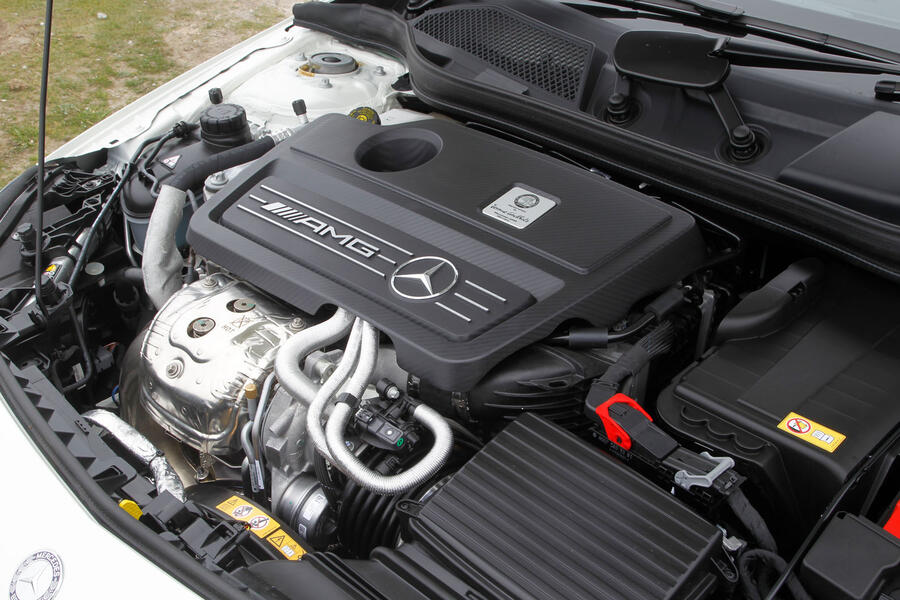 Buyer beware… 
■ Engines: A full set of service stamps is a must-have. The turbochargers on early cars can be weak and several were replaced under warranty. They lack an anti-surge valve, meaning the pressure can only escape through the turbo impeller, causing it to wear prematurely. Get the turbo checked.
■ Transmission: This should be super-slick and on the downshift the exhaust should bark a naughty crackle. Mercedes did recall some for work on the DCT assembly.
■ Brakes: The A45 is relatively light but heavy braking eats through discs and pads. Check them visually and through the car's on-board command system.
■ Electrical: Electrical issues are rare and if any surface, it may have been involved in a crash. Electrics can be very expensive to fix so, to be on the safe side, ask a garage with the right diagnostic tools to scan the car's ECU for faults.
■ Body: Body rust should be non-existent. If the Aero kit is fitted, check it's original equipment and not a replica, which won't fit as well or last as long.
■ Interior: The bucket seats are tight so the bolsters soon wear and look tatty. The cloth on the optional cloth and leather seats can hold stains, so avoid this trim if you have young children. Some interiors are wrapped, and you wonder what damage they're hiding.
Also worth knowing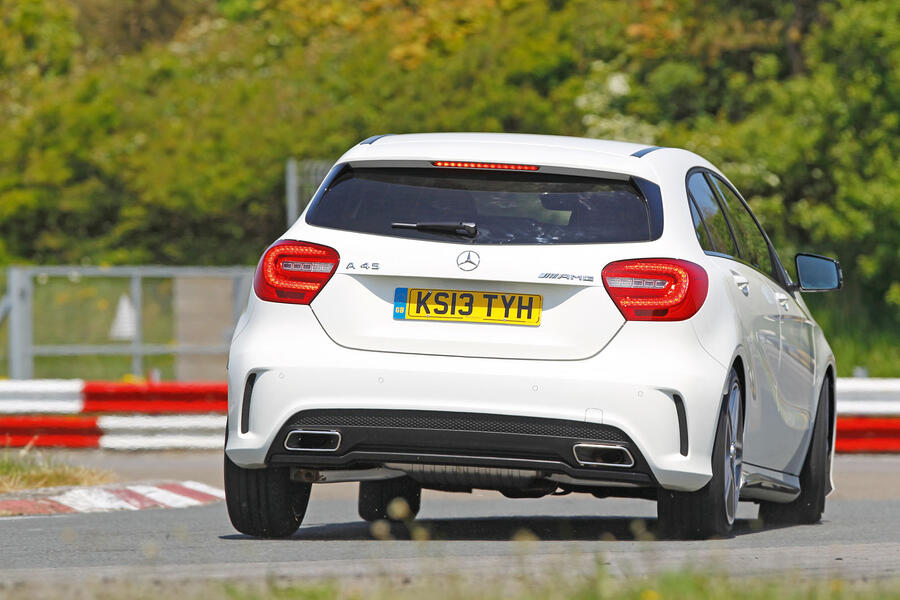 A standard-dress A45 is understated, which is why many first owners added options. Today, only those extras that can be seen and heard have any value. Chief among them are the Aero kit, panoramic glass sunroof and AMG Performance exhaust, although check it's not too noisy for you.
How much to spend
£20,000-£22,999: 2013 to 14-reg cars with 35k-80k miles.
£23,000-£24,999: 15-reg cars with around 40k miles.
£25,000 – £27,999: Heavily specced, low-mileage 15-reg.
£28,000-£31,999: Lots more 10k to 30k-mile 16-reg cars.
£32,000-£34,999: Mix of low-mileage 16 and 17-reg cars. £35,000-£37,999 17-reg and more 18-reg appearing.
£38,000-£42,000: Late-platers with huge specs plus limited editions including two 2016/16 Petronas 2015 WC Editions, one with 20k miles for £40,000 and another with 12k miles for £42k.
One we found
Mercedes-AMG A45, 2013/63, 59k, £21,495: There's a sprinkling of nice A45s with full service history at this money, but this one stands out for its big spec (AMG Performance exhaust, Aero bodykit and upgraded sound system) and five Mercedes service stamps.
["source=autocar"]