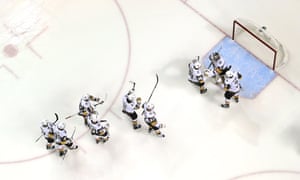 While attending a wedding full of the Las Vegas elite on Sunday evening, Carolyn Goodman kept losing focus on the bride and the groom. The Mayor of Las Vegas had other things on her mind as the sports world's most sensational story continued to break new ground: Through the hors d'ouevres and dinner, Goodman kept checking her phone for updates on the Vegas Golden Knights in Game 6 of their second round NHL playoff series against the San Jose Sharks, and tapping the Golden Knights pin she wore on her blouse, over her heart, for good luck.
Finally, sometime around when the dancing picked up, Goodman relaxed. The expansion NHL team, featuring a collection of players that had been left unprotected and unwanted by their previous clubs, had shut out the Sharks, 3-0. They were continuing their improbable run to a place many believed was not a long shot, but an impossibility ahead of the season: the Western Conference finals.
The NHL wasn't supposed to work in Las Vegas: The city was part of the nebulous group of "non-traditional hockey markets" and their roster was cobbled together.
But it has worked, and it's now become impossible for both locals and those around the hockey world not to be swept up in the kind of sports story that is on par with the implausible championship won by Leicester City in 2016.
"My heart," said Goodman of the Knights, "is there."
Goodman's not alone. Sin City has quickly become transformed into a hockey city. Thousands line up outside the T-Mobile Arena on the Strip to watch road games on giant screens. Hockey schools and camps are popping up across the city. A 10-year old Jack Russell terrier has been named after the club's All-Star goalie, Marc-Andre Fleury.
How did this happen? Many balked when Golden Knights owner Bill Foley saidthe new franchise would win a Stanley Cup by year six. Ahead of their first ever NHL season, the Golden Knights were given the worst odds by oddsmakers in their own city to win the Stanley Cup. They're now eight wins away from the Cup. The Western Conference finals begin Saturday night.
"Everybody's extremely happy," said Golden Knights forward Deryk Engelland, "but still not satisfied."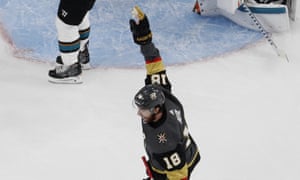 Engelland was a rare bird amongst the expansion team. The Edmonton-born 36-year old has spent his summers in Las Vegas for over a decade and was an integral part of the team's roster building. He felt an inherent level of civic pride when the city welcomed its first ever team from one of North America's four major professional sports leagues.
It was a horrific tragedy, however, that hastened the connection between the Golden Knights and the city itself.
On Sunday 1 October, a gunman opened fire on a crowd at the Route 91 Harvest music festival on the Las Vegas Strip. Fifty-eight people were left dead, along with 851 injured in the deadliest mass shooting in the history of the United States.
Immediately, players began texting Engelland: What could they do? How could they help?
A $300,000 donation was made from the team to the victims and their families. Players went out into their communities to show their support of first responders. They visited blood donation centers and the Las Vegas Convention Center, which was serving as a family assistance center.
"That helped to bring guys together on a personal level, instead of just going to the rink," said Engelland.
The Knights played their first ever regular season game on 6 October in Dallas, winning 2-1. After the game, Engelland stepped up in the team's dressing room to read texts he'd received from local firefighters: They wanted the Golden Knights to know that just the simple act of playing a hockey game for a grieving city helped many cope with the tragedy.
"We weren't winning for ourselves," said Engelland. "We were winning for everyone in the city that was affected by that tragedy."
Nine days after the shooting, the Golden Knights held their first ever home opener.
"We felt, because we were on a major platform now, we had to be the community hub and have a memorial that was respectful and help this community grieve, heal and persevere," said Golden Knights General Manager George McPhee.
First responders escorted players on the ice ahead of puck drop and 58 seconds of silence were held, one second for each victim of the shooting. The Knights would go on to beat the Arizona Coyotes, 5-2. That began a seven-game home stand, during which the Knights won six games.
"It gave people three hours of their day to not think about everything that had gone on," Engelland said of Las Vegas residents.
The process of implanting the team into the city's psyche, in the eyes of Engelland, was fast-tracked.
All along, every player that was left unprotected by their former clubs and selected by the Golden Knights in the expansion draft found a purpose in their career once again. Forward Erik Haula, left unprotected by the Minnesota Wild, was usually deployed as a fourth-line centre who killed penalties. His career high in goals was 15. With the Knights, he scored 29 goals this season.
And William Karlsson, affectionately known as "Wild Bill", went from scoring six goals with the Columbus Blue Jackets last season to finishing third in goal-scoring across the NHL with 43 goals.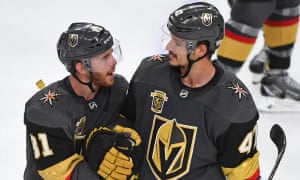 The guys that were left unprotected coming in knew there was a lot of opportunity to play a bigger role than they had and play to their full potential," said Engelland, who was not protected by the Calgary Flames. "Guys kind of just ran with it."
That stretched to the front office. Head coach Gerrard Gallant had been fired by the Florida Panthers in November 2016 and McPhee had been fired by the Washington Capitals in 2014.
"Everyone here has been rejected in one way or another," said McPhee.
The team referred to themselves as the Golden Misfits. It might seem like a joke of a moniker, but as the regular season wore on, there was nothing funny about the results they were generating. By the early spring, the Knights had backed up their hot start with a push to become Pacific Division champions.
"Having a chip on our shoulder did not hurt this team," said McPhee. "It helped this team."
Those closest to the organization credit McPhee's ability to not only draft for talent, but find players that were willing to buy-in to a simple notion: this team could find success if they forgot about the past and those who didn't believe in their abilities and instead, embrace a second chance. Every player entered the season as equals, all united on a strange island for banishment in the middle of the desert. McPhee had to vet hundreds of players available in the expansion draft establish for those who would relish the opportunity.
What he assembled was a collection of personnel who thrived with that second chance, especially Gallant, who last month was announced as a finalist for the Jack Adams Award as NHL coach of the year.