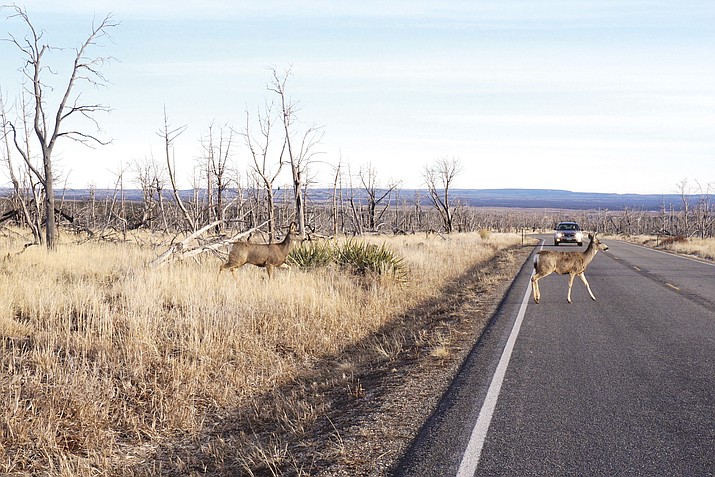 This time of year, deer are frequently found on the road, especially as you drive farther out of populated areas, and they're one of the most common animals to be struck by drivers, most often just as the sun is rising or setting
Any animal in the road can cause a crash, but the Insurance Institute of Highway Safety reports there are more than 1.5 million vehicle-vs.-deer crashes every year in the U.S., resulting in 150 people killed.
"There are no fool-proof measures that can be implemented to avoid animals, but we stress being cognizant of the area you are traveling through, the time of day or night, and adjust your traveling speed accordingly," Department of Public Safety Capt. John Seeley said.
Deer do, indeed, freeze when a bright light strikes their eyes in low light, and that's because their pupils are dilated to give them the best vision in the darkness; when they're caught in a headlight beam, they can't see anything and stop moving until their eyes adjust.
Michelle Donati-Grayman of AAA Arizona offered these tips to keep you from striking a deer or other wildlife:
• Keep your eyes moving back and forth. Continuously sweep your eyes across the road for signs of animals. While the most likely accident is caused by an animal darting in front of you, one might also run into the side of your car.
• Be especially attentive in early morning and evening. Many animals, especially deer, are most active during prime commuting hours – roughly 5 a.m. to 8 a.m. and 5 p.m. to 8 p.m.
• At night, use high beams when there's no oncoming traffic. Your brights can help you spot animals sooner. The light reflecting off their eyes may also reveal their location.
• Slow down and watch for other deer to appear. Deer rarely travel alone, so if you see one, there are likely to be one or more nearby.
• Don't go near a wounded animal. A frightened and wounded animal can be unpredictable. If it's in the middle of the road and blocking traffic, call the police immediately.
"Regarding the swerve-or-not-to-swerve dilemma, we advise not swerving in most cases," said Dwight D'Evelyn, spokesman for the Yavapai County Sheriff's Office. "You can suffer more shocking consequences from a collision with an oncoming vehicle vs. a leaping deer or antelope. Instead, it is best to brake hard – ABS should prevent out of control skidding on most cars – and hit the horn. Be aware of traffic behind you – sudden braking may surprise a driver too close to your rear bumper."
Source:-.cvbugle.