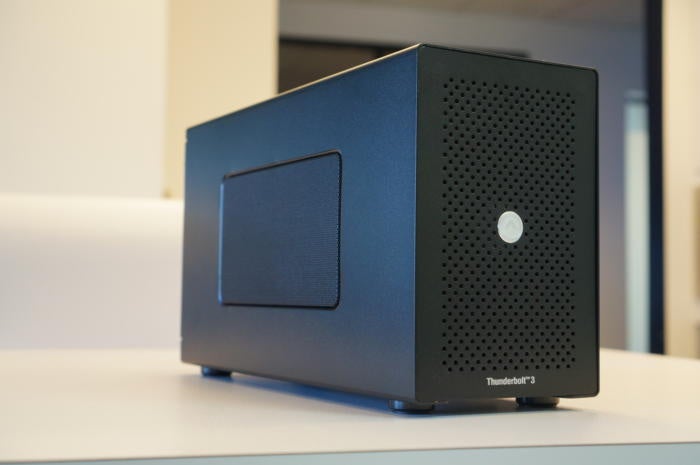 The Akitio Node external GPU cabinet is here to give your Thunderbolt 3-equipped laptop a big boost. This affordable unit—basically, a big steel box with a 400-watt PSU and a fan in front—lets you drop in most modern AMD or Nvidia graphics cards and then connect it to a laptop using PCIe over Thunderbolt 3/USB-C.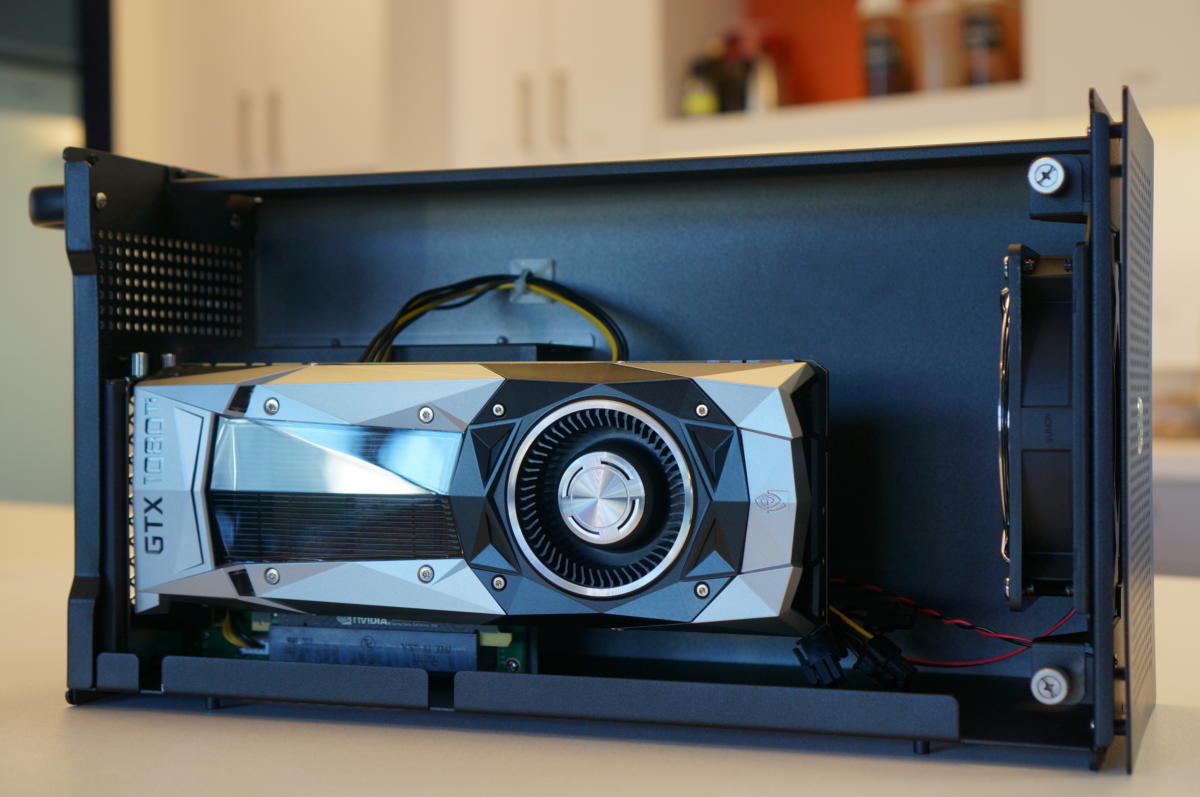 For the most part, when it works, it's amazingly smooth. For example, we cracked open the Node, dropped in a Founders Edition GeForce GTX 1080 Ti card, then plugged it into a HP Spectre x360 13t. Once we had the latest drivers installed from Nvidia's website, we were off and running. As these results from 3DMark FireStrike Ultra show, the tiny HP Ultrabook gives what-for to big, giant, fast gaming laptops.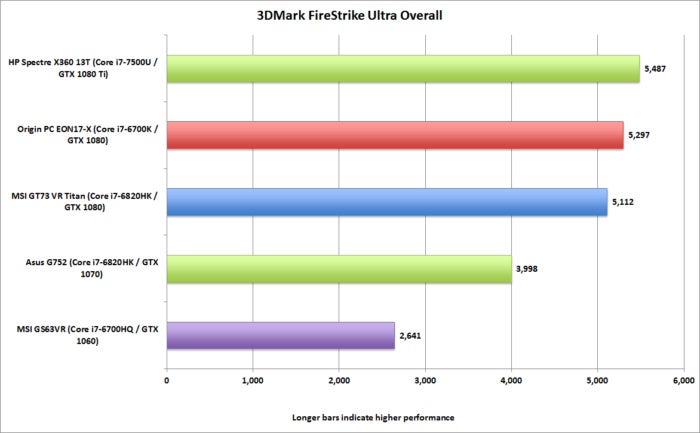 The score you see above, however, is the overall score for 3DMark FireStrike Ultra, which also counts CPU performance. The dual-core Kaby Lake chip in the tiny HP Spectre x360 13T isn't going to compete with the quad-cores. In the 3DMark test that includes just the graphics performance, however, you'll see a better spread from the GTX 1080 in the giant EON17-X laptop.
Yes, there's a good chance the limited x4 PCIe Gen 3 could rob you of some performance over what you might get if the GPU were in a desktop. In fact, the same GPU will typically score in the 7,000 range when in a full x16 PCIe Gen 3 slot. But just remember: The alternative is being stuck with the integrated graphics in the laptop, unable to game at this higher level of performance.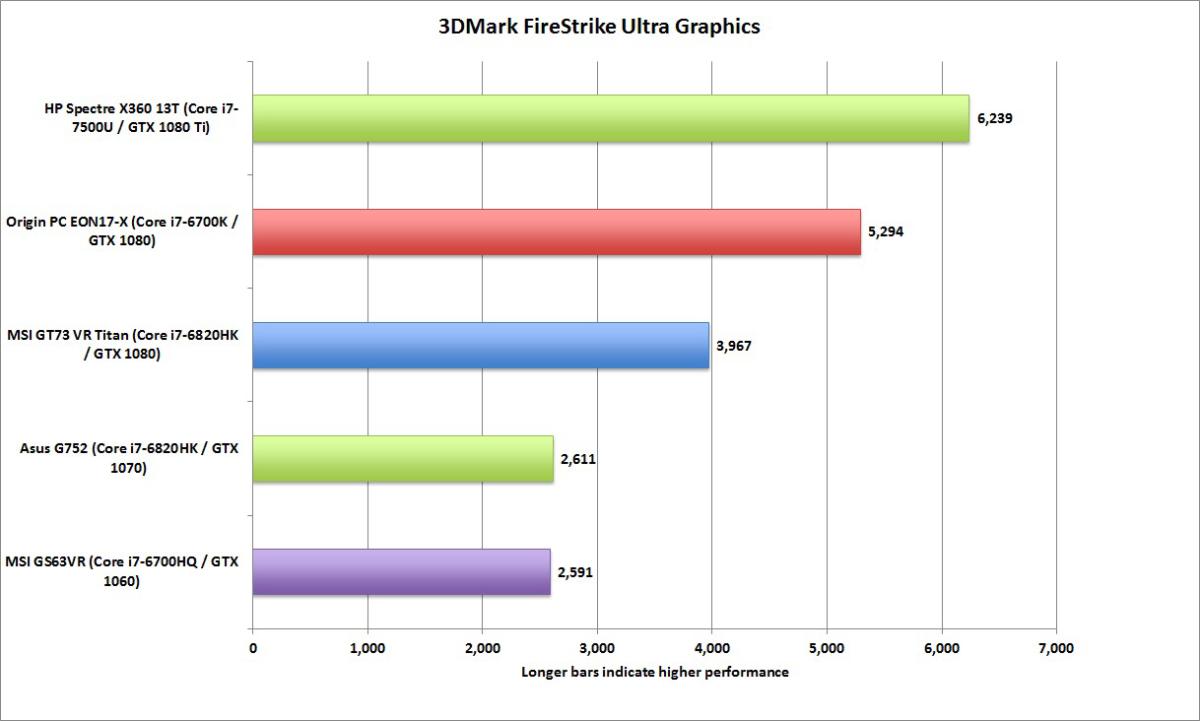 Compatibility: No guarantees
It's pretty much a no-brainer: If the Node works with your Thunderbolt 3-equipped laptop, go for it. But that 'if' is a really big question. Although we think Thunderbolt 3 is wonderful, support for external graphics is still pretty spotty. The problem, we're told by vendors: Boot support for external graphics over Thunderbolt 3 isn't quite standardized yet. That means the list of laptops with official support is pretty minimal. As of this writing, it's Intel's NUC, the HP Spectre x360 13T, and Razer's Blade and Blade Stealth. Many who have purchased it using laptops not listed by Akitio have reported success too, though.
So how do you know if your laptop supports external graphics over Thunderbolt 3? One way to do that is to check the Thunderbolt 3 utility that should appear in the system tray. Click Settings and then Details to get this pop-up. If your laptop says it supports external GPUs, then it might work.
[Source"indianexpress"]