A report from Bloomberg cited "person/persons familiar with the matter" four times, so we will approach this story with the deserved amount of skepticism.
According to the report, Apple could be releasing an LTE-enabled Apple Watch alongside the iPhone 8 or toward the end of the year. But according to "another person familiar with the matter" (from the same report, mind you) it could be delayed well into 2018". Do you see where the skepticism comes in?
Anyhow, Apple had reportedly delayed an LTE-enabled version of the Watch before the Series 2 launched but had to put it off because it needed more time to improve overall battery life over an LTE connection, which is limited by the battery's relatively smaller size compared to a smartphone. Speaking of LTE, Intel is slated to provide the modem chips for LTE. Qualcomm was Apple's main modem supplier but the two companies are in a bit of a legal bind at the moment.
Back to the report, Apple was said to have already been talking to US carriers about its connected wearable. Carrier support would be limited at launch, though the four major US carriers are all said to plan to sell the new Watch.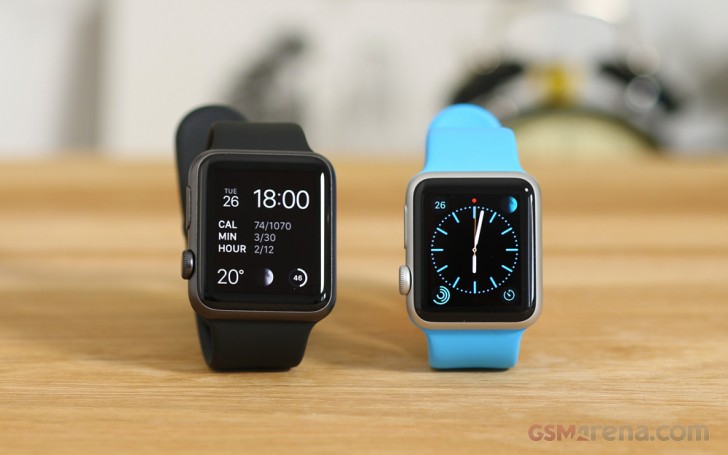 1st-gen Apple Watch
Here's why we think it's still too early for Apple to release a new watch: Apple's first watch was released in April of 2015 and the new Series 2 came out alongside the iPhone 7 in September of 2016, about 1.5 years later. Following this timeframe (because this is all we have to go off of) it's more likely that Apple would launch a Series 3 Watch in Q2 of 2018 to offset the launch of its iPhone 8, which is supposed to start at $850. Furthermore, Tim Cook said that the Apple Watch's sales have grown 50% year over year and is the #1 selling smartwatch "by a very wide margin".
If you had a product and it was selling increasingly well, you'd want to ride the wave as long as possible, right? Apple would be jumping the gun if it released the Series 3 next to the iPhone 8 in September. We are just speculating here since, for all we know, Apple could even release a new Apple Watch next to every iPhone from here on out. A more likely scenario is Apple releasing an LTE-enabled Apple Watch Series 2 next to the iPhone 8.
This report is definitely one of the more obscure ones. So we personally won't be holding our breaths for a new Apple Watch this September.
[Source"timesofindia"]