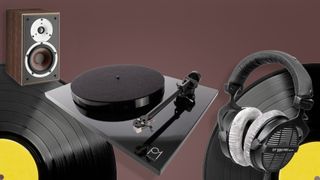 Record Store Day 2018 is happening on April 21, and it's the best day of the year to find vinyl deals and limited pressings.
However, if you still use a Crosley Cruiser, maybe it's time to upgrade – you lose all bragging rights if your vinyl sounds terrible.
To help you we've compiled a selection of recommended buys for those looking to get the most out of their records without blowing their entire budget on kit.
Rega Carbon Moving Magnet (MM) Cartridge
The Rega Carbon is one of the best affordable record player cartridges. You'll want one of these when your turntable's needle starts to wear out, which reduces sound quality and could lead to your records getting damaged.
This is a moving magnet cartridge, so you can replace either the whole enclosure that fits onto the tone arm, or just the outer stylus part.
Today's best Rega Carbon Moving Magnet MM Cartridge deals
Audio Technica AT-LP3
When you're ready to upgrade from the cheap turntable you bought at a supermarket, or received on your birthday, the Audio Technica ATH-LP3 is one of your best options.
It has an automatic belt drive system, and a built-in phono pre-amp – this boosts the signal to the level required by the kind of amps and powered speakers that weren't made with a turntable in mind.
There's an upgrade path here too: you can remove and upgrade the cartridge if you really get into vinyl hardware in the future.
Today's best Audio Technica AT-LP3 deals
Rega Planar 1
The Rega Planar 1 is one of our favorite affordable, high-quality turntables. Not only does it sound great, it looks good too.
Its plinth is made from a wood composite, lighter than the MDF of the more expensive Planar 2. However, the gloss black or white finish looks great, a perfect fit for a stylish living room.
The Planar 1 uses Rega's highly regarded Carbon cartridge, guaranteeing solid performance.
If you're wondering why it's only slightly more expensive than the Audio Technica AT-LP3, it's because the Planar 1 doesn't have a pre-amp, so you'll need to get one if your amp or AV receiver doesn't have a phono stage.
Today's best Rega Planar 1 deals
JBL LSR305
A pair of active speakers is a great fit for a record player setup if you want to keep things simple. The sound quality of the JBL LSR305s is hard to beat for the money, with studio-grade balance, good bass depth for speakers with 5-inch cones, and none of the audio trickery you see in the Apple HomePod.
That said, they do use JBL's patented waveguide design for better soundstage imaging – it's the odd contouring of the plastic housing around the tweeter drivers.
The JBL LSR305s take a 6.3mm jack input or an XLR. All you need to plug them into a turntable with a built-in phono pre-amp are a couple of phono to mono TRS adapters.
source:-techradar.