Russell Wilson won't suit up on Super Bowl Sunday but he's still staying busy off the field in Atlanta this weekend.
The Seahawks star quarterback has been making the rounds all week, jumping from media interviews to sponsor events to high-profile parties before today's big game.
Top of mind for Wilson is Tally, a new sports prediction app developed by his Seattle startup that he's been touting to reporters this week. The free-to-play app debuted a few months ago and offers real cash prize payouts to users who can make the most accurate prediction on. For the Super Bowl, it is offering a $250,000 grand prize to anyone who correctly predicts all 16 questions on the line. They range from specific in-game predictions — which team will have the longest field goal? — to off-the-wall questions such as: What color shirt will Adam Levine be wearing when he takes the stage for his halftime performance?
Tally mimics gamification and engagement concepts from HQTrivia, a live mobile game which went viral last year. The app last month expanded beyond sports and ran predictions games for The Golden Globes, The Bachelor, and even President Trump's national address on immigration.
Prizes go to users who rack up the most points, which are awarded on a probability scale — if you predict something with a low chance of happening, you win more points. There's also a jackpot — $250,000 for the Super Bowl — that goes to people who ace all the predictions.
Tally funds the prize payouts, which are issued to winners via PayPal within three days. The company's CEO, Jason LeeKeenan, said the app is not related to sports betting, which has caught the attention of investors and technologists expecting more legalization across the U.S. after a key Supreme Court decision last year.
"We see this as a really friendly version of fantasy," he told GeekWire in November.
Tally is an evolution of TraceMe, a celebrity content app that was the original premise of the company Wilson helped launch in 2017. TraceMe shut down late last year, laying off staff and closing its Los Angeles office as it shifted focus to Tally.
TraceMe had aimed to connect celebrities with "superfans" through its app via behind-the-scenes content, community features, and more. But according to LeeKeenan, who now heads up Tally, the company overestimated the addressable market for TraceMe, which raised a $9 million round last year from investors such as Amazon founder Jeff Bezos, YouTube founder Chad Hurley, Alibaba co-founder Joe Tsai, and Seattle-based Madrona Venture Group.
Speaking of Bezos — the Amazon chief is also in Atlanta this weekend. He and Wilson were spotted making a friendly exchange at the NFL Honors awards ceremony Saturday night. Sports reporter Darren Rovell posited that Bezos could be a potential new owner of the Seahawks, whose previous owner Paul Allen passed away in October.
View image on Twitter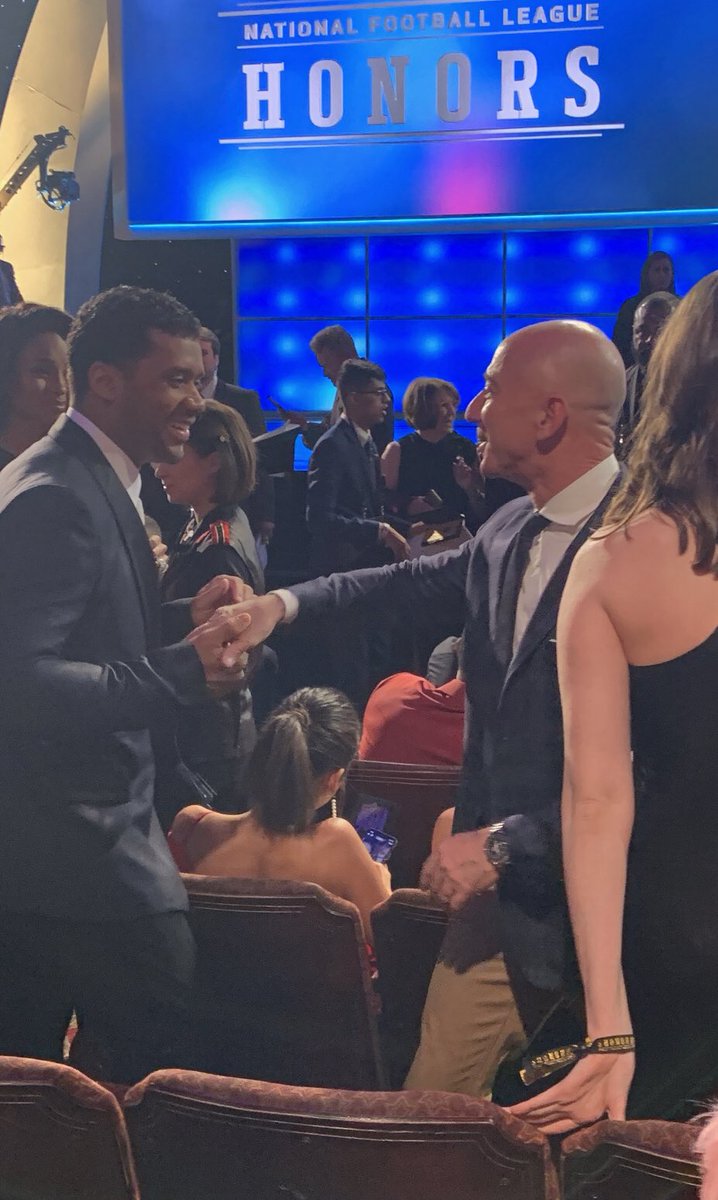 Darren Rovell

✔@darrenrovell

Is Russell Wilson talking with his future owner tonight in Atlanta? Jeff Bezos has made the trip ( by @leverageagency)
74 people are talking about this
Twitter Ads info and privacy
Bezos and Wilson are not only business partners but they also apparently like making pancakes together, as we found out last year.
View image on Twitter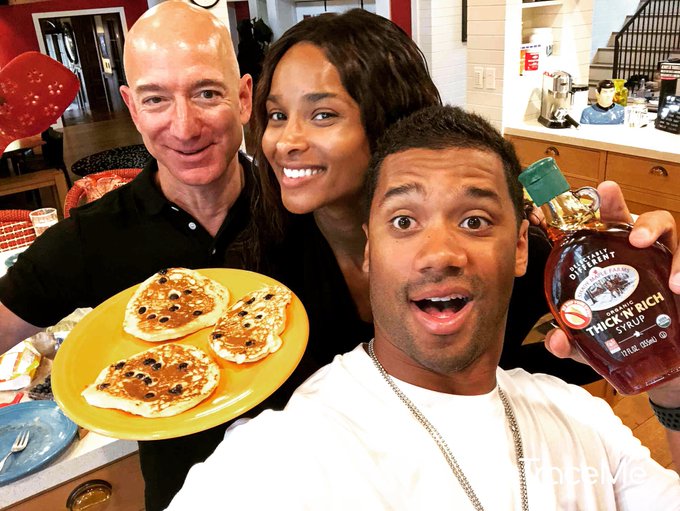 Russell Wilson

✔@DangeRussWilson

#BezosPancakes
Chocolate Chip. Blueberry. Original. #WorldFamousRecipe @Ciara & Chef @JeffBezos
191 people are talking about this
Twitter Ads info and privacy