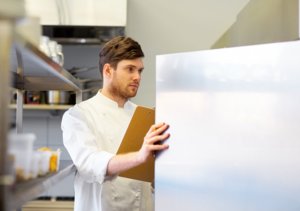 Are you losing money caused by wasted food? Restaurant inventory management software might be your answer.
Many restaurants lose up to 10 percent of their food before it even makes it onto diners' plates because of inventory errors. This can cost your restaurant thousands in lost revenue over the course of a year and cause frustration. A strong inventory management software application, though, can help you track exactly what comes in and goes out of your restaurant down to the last garlic clove. Another benefit of this type of software is that you can see exactly where you're overspending or losing money.
Every restaurant has different needs, so the best place to start is to make a list of the features your business requires from an inventory software. Once you have a list of the must-have features, you narrow it down from there.
How to choose restaurant inventory software
When drawing up your list of must-have features, think about your current method of inventory management. What exactly is lacking with the current system, and what you would like to add? Do you need detailed reports of what items you have in stock? Do you need it to integrate with other systems? Do you store your items at multiple locations?
Next, determine if your restaurant has other needs – most inventory management tools are included in restaurant management systems (RMS) that come with other features like point of sale (POS), employee management and CRM. Do you need these features or only inventory management software? If you need multiple services, choosing an all-encompassing RMS may be more cost effective. [Interested in learning more about POS systems? Check out our reviews and best picks.]
Why is it important?
Inventory management software helps your restaurant run as efficiently as possible. A good software program will perform some of the following important functions:
It allows you to plan your menu by telling you precisely what and how much food you have on hand.
It alerts you to surpluses or shortages.
These applications track your food usage to help you identify trends.
It calculates your cost of goods sold (COGS), or how much you spend on your inventory, which gives you an accurate look at profit margins and represents your restaurant's financial health.
It determines food costs and controls waste by telling you what needs to be used first on a given day.
Pricing
Most inventory management software programs have a core, or standard, package that increases in price as you add more hardware or capabilities. A starting software package can cost anywhere from $70 to $130 per user (or terminal), per month, and you should expect to pay more for additional features.
Software vendors offer different packages with different combinations of features, which is why it's critical you already know exactly what features you need beforehand so you can accurately compare programs.
Ease of use
It is important that you choose software that is intuitive, easy to use and has good customer support in the event that something goes wrong. Most systems are easy to learn and understand, but you should test the software that you're considering first before you buy it. Many vendors offer a free demo. If they don't, ask for one. If they refuse or don't offer one, that should serve as a red flag to you.
Accessibility
Most software is created for Android or iPad platforms. Determine which type of device you will use, and check with the software company to ensure the software can run on those devices. Also check whether the software is mobile or tablet only, or if it can also be accessed on a desktop or laptop.
Integration
If you choose inventory management software (as opposed to a general restaurant management system), make sure the software can be easily integrated with other systems. This will make running the day to day of your restaurant easier because your systems will be able to coexist together (and, in fact, provide more meaningful data) rather than competing against each other.
Features
Most systems have a core plan with basic features, such as automatic inventory, recipe costing, vendor management and one-click ordering, with access to more advanced features as the price goes up.
You should know exactly what your restaurant is looking to get from inventory management software. For example, how detailed do you need your inventory reports to be? Do you want automatic reordering? What (and how much) do you want the software to do versus what you (or your staff) are willing to do? Some vendors may work with you to customize the software to meet your unique needs. Check with the vendor to see what your options are.
Customer Support/Troubleshooting
Finally, research what types of customer service and support are available with your software program. It is vital that you have reliable and helpful responses to your requests, since good technical support can turn a crisis into a small inconvenience.
Check whether the vendor ha 24/7 chat, a phone number, or if you have to submit an online form or ticket for any issues. Ask the vendor what their average response time is for typical customer issues, how they respond to issues, and be sure to read reviews on a variety of platforms before making your decision.
By doing your research and understanding your restaurant's needs, a restaurant inventory software application can increase your profits, decrease waste and help your business run more efficiently. By starting the buying process confident about what your needs are, you'll benefit in the long run.
["source=business"]