Updated 07/22/17 with additional data from our review of the Surface Laptop. Check out the Battery and Performance sections for the new comparisons. 
Microsoft's Surface Laptop is aimed at supplanting the MacBook Air as a college-student favorite. The svelte, stylish clamshell also fills a middle ground between its cousins, the Surface Pro 4 tablet and Surface Book powerhouse 2-in-1, providing a third option that could appeal to many regular consumers.
We got a good first impression of the Surface Laptop after going hands-on in advance of its June launch. Now that we've reviewed it, we can help you decide whether it's a better choice than the Surface Pro 4, with its promise of a tablet that can be a full-fledged computer. Let's dig in!
Price: Beyond many students' budgets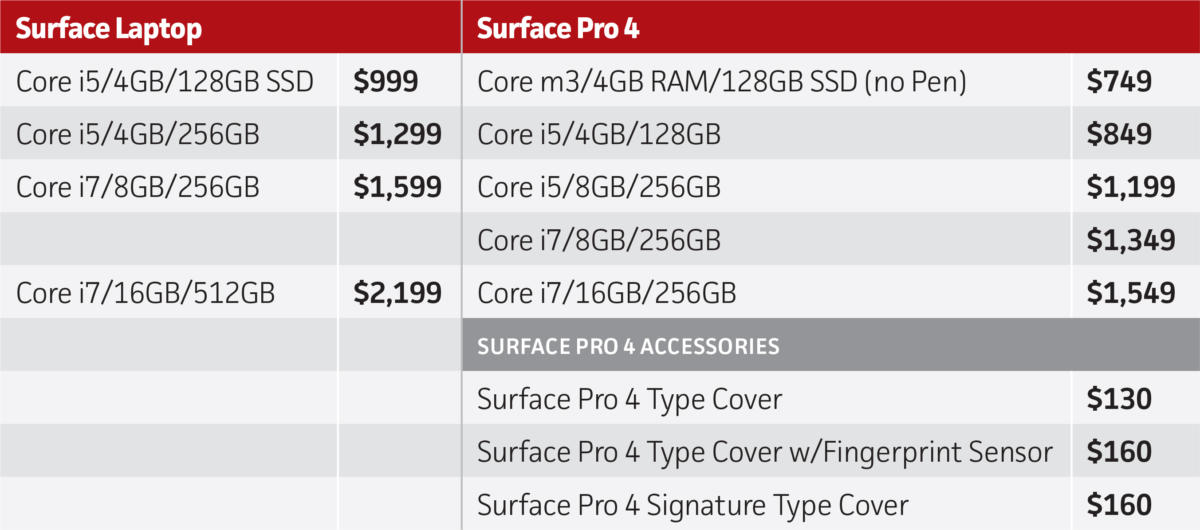 Neither the Surface Pro 4 nor the Surface Laptop is especially cheap, as the prices above indicate. Selecting the right Surface Laptop comes with a caveat: It's aimed at education, where you'll be subject to the whims of professors who dictate what software to buy. The entry-level models with 4GB of RAM may struggle if burdened with demanding applications. The models with 8GB of RAM or more will have better staying power.
Buying a Surface Pro 4 is a bit more straightforward. Note that these prices do not include a Type Cover attachable keyboard, which costs an additional $130 to $160 depending on the model. While you could theoretically do without one, you'll make your life a lot easier if you add a Type Cover to your shopping list.
While asking college students to pay north of $1,500 for a higher-end Surface Laptop seems unrealistic, even if the alternative is an equally pricey MacBook Air, the most viable comparison is between the Surface Laptop with Core i7/8GB RAM/256GB SSD ($1,599) and the near-identically configured $1,349 Surface Pro 4 plus Type Cover (for a total of $1,479-$1,509). Note that the Surface Laptop offers a more advanced 7th-generation (Kaby Lake) Intel Core processor, while the Surface Pro 4 is stuck with the 6th-generation (Skylake) chip.
[Source"pcworld"]